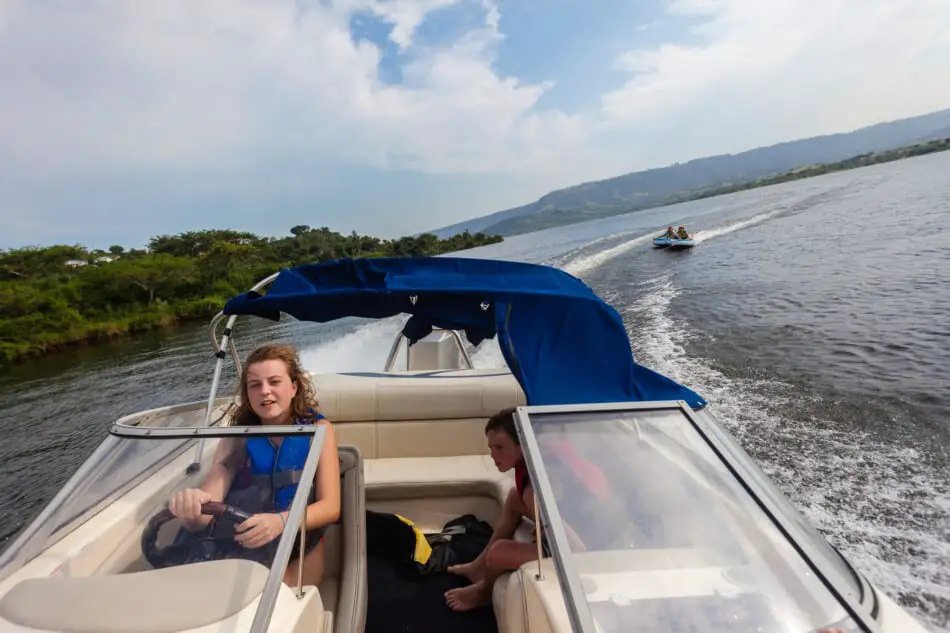 A family boat, whether it is a pontoon boat, ski boat, or other pleasure boat- what a great investment for your family. It grants you years of fun in the sun, and deletes those summer days with nothing to do. Find yourself on a lazy Sunday? Take your kids out on the water with no problems, all on a boat.
But what if you find yourself needing to, you know, go?
A simple portable toilet can be added to any boat. The most important consideration is where will you store it out of the way to make sure it does not interfere with your fun out on the water. There are camping toilets, liners, as well as portable heads you can add to any boat that will work.
For all a smaller boat is good for, they do have one major flaw. If you need to do anything other than number one, you're out of luck. Pontoon boats are great for sunbathing, diving, and every other activity under the sun and on the water. But, eat the wrong thing, and you won't be out for long.
So, how can you fix this little problem? Are there bathroom options to add to your boat? And how will you stay private while you use this bathroom, considering that it's all open? In this article, we'll talk about all your options for going on the go.
Can You Add a Toilet to a Boat Without One?
Now, when you think of adding a toilet, you're likely thinking about the whole installation process- from buying a new toilet at West Marine, to drilling holes and installing plumbing, a holding tank, and everything else. But, lucky for you, it doesn't have to be that hard.
There are plenty of options for using the bathroom on your pontoon boat or other boat that was not equipped. You might try a proper portable toilet, for one. or, if you're not looking to spend too much, you might try one of the cheaper, even more portable options.
And as for privacy- you're going to want it. If you and your friends are so close you can go number two in front of one another, we salute you. But, as for the rest of us, some privacy would be appreciated. We'll also talk about a few bathroom options to add a little privacy.
Portable Toilet Options
No matter what kind of toilet you're looking for, there will always be options for you and whoever you aim to take along on your boating adventures. From large to small, expensive to cheap, and everything in-between, there's no shortage of options for you and your crew when it comes to number two.
Commode Liners
This one may not be for the squeamish, but it certainly is for you if you exhausted your funds on that big, beautiful boat and now need to stay on a budget for add-ons. Commode liners are simple, cheap, effective, and easy to get rid of. Taking care of this after use is as simple as throwing it away.
But, what is a commode liner? Well, this is where the design loses a few points for some people. Instead of having a dedicated toilet receptacle, commode liners are just plastic bags you can place around a pail or a bedside toilet stand so you don't have to do any cleaning after the work is done.
This is the smallest option that is best for those emergencies and it will not take up much space. You will need this seat as well as these liners.
This may seem gross, but you have to compare it to the alternative. If you own a cat, you'll know what we're talking about. While portable toilets can provide a lot of convenience and put the problem out of sight and out of mind for a while, you'll inevitably have to deal with it at some point.
So, if you're looking for something quick and easy, you're likely looking for a commode liner. Using it is as simple as spreading it out, and getting rid of it is as simple as tying it up and tossing it out. Just make sure you toss it in a dedicated trash can, not out in the water.
You don't want it sneaking up on other swimmers, after all.
Portable Toilet Boxes
This is the lightweight and nimble cousin of the dedicated personal toilet. Small, convenient, and easy to handle, these portable toilet boxes will not only provide a place for you to go, but a way to store the products until you can get rid of them.
Surprisingly, these simple boxes can run you up a pretty spectacular bill. Sometimes close to $100. For a lot of people, that's a turnoff. Still, for others, to whom price is not part of the equation, it's a small fee to pay for easy toilet access.
This option gives you a sealed toilet that can hold all of your used bags.
Campers often use toilet boxes so they can avoid creating organic waste while they're out on the trails. They're small, lightweight, and- don't worry- they'll almost certainly be able to hold you up or at least stay stable as you squat over them.
When you're done, they often come with a liner you can use for easy disposal. These boxes are truly the height of ease and convenience when it comes to using the toilet in a place you usually wouldn't be able to go.
The main disadvantage of this option is, obviously, the price. But, if you're ready to make an investment that will most certainly pay off, you can use these little babies again and again for all-day fun on the water.
Proper Portable Toilets
These are the real deal. If you're one of those people who simply can't do without the full toilet experience, you might try going for a regular portable toilet. And the good news is: they're not too much more expensive when compared to something like a toilet box.
This is our favorite option for adding a restroom on a boat. This specific model comes with a separate black water tank that makes it easy to empty into your toilet system at your house.
These portable toilets aren't so convenient to move around, but when you get them where you want them to be, they're incredibly convenient to use. Getting one of these is like spoiling yourself, although it doesn't cost so much more than the more rugged options.
Certain models may even come equipped with a wash basin so you can clean yourself up after you get done. And the funny thing is, for certain models, you're not looking at much more than an added $20 on the cost of a toilet box.
The main disadvantage with this option is that you may end up having to clean it up. Remember, the whole idea of a portable toilet is to keep waste out of the water. So, with nowhere to go but the pot, what's got to happen to it? well, you can fill in the blanks, but we can say that for some models, it's going to involve scooping devices, some water, and some bleach or soap.
Privacy Options
If you're the kind of person who gets stage fright, or if you're just a normal person who doesn't want to use the restroom in front of everyone else, you may find yourself wanting some privacy. And, to be sure, there's no shortage of options.
Our first, cheapest option comes in the form of a plain blanket. If your boat has a roof somewhere, and you can find a way to fasten the blanket to the roof like a curtain, you might not have to spend a penny on privacy. Just hang it up and be done.
If not, there are plenty of prefab options to buy online. Try a portable privacy tent. usually used by campers for privacy while changing, privacy tents pop up with ease and, if you're model fits, why not put a nice portable toilet in one? They're quick, easy, and convenient.