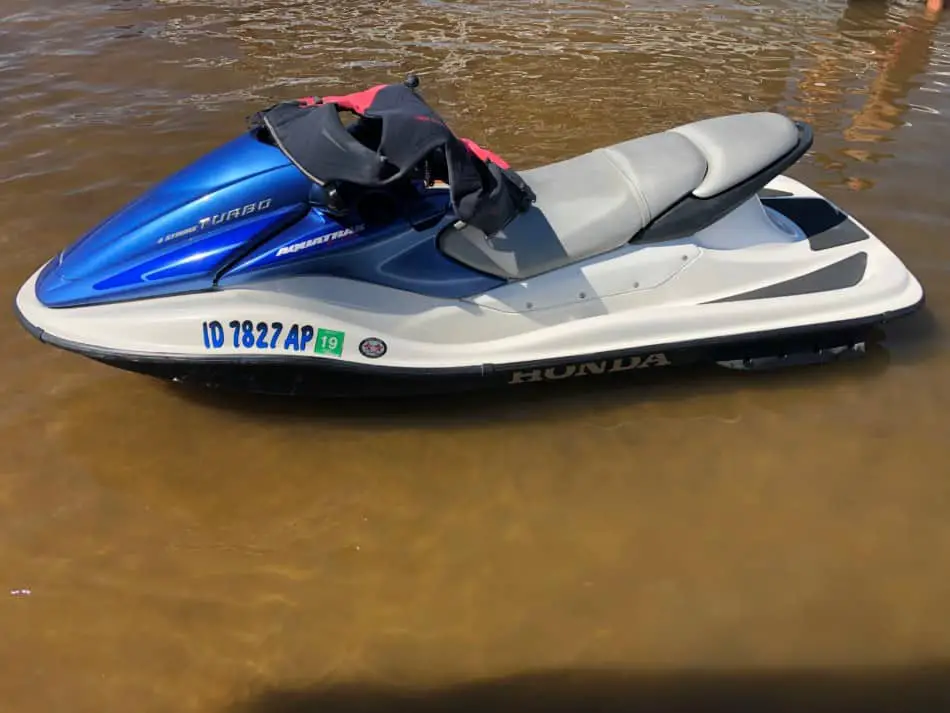 Jet skis are fun toys that can be used to strictly play, or to fish, or do whatever you want. They are great machines because they can be ran in shallow water without the worry of breaking a prop on a rock. Running on shallow waters does have its downsides with a jet ski or wave runner, so be careful.
Can a jet ski go in shallow water?
Yes, a jet ski can go in 6″ shallow water if you absolutely have to. It is recommended to at least have 2 feet of water for safer operation. If you do run in shallow water, you run the risk of sucking up items such as sand, rocks, or weeds in your pump which can cause damage.
Shallow riding is very dangerous especially above a plane. There are changes you can hit items under the waterline and be thrown from the jet ski into shallow water, or onto land.
How much water does a jet ski need?
A jet ski can theoretically run in whatever amount of water it takes it to float. So if your ski takes 3-4 inches to float, it can run, but you will be sucking up items from the bottom. If you look on the internet, there are people that claim that a ski can run in as little as 1/2″ of water which is in no way possible.
A jet ski will need at least 2 feet of water to run safely and not suck up items from the bottom. To test this, put your ski in reverse in shallow water, if you see the bottom churning, then you have a good chance of sucking up items if you were to give it some gas.
Even though a wave runner can run in 2′ of water, it is not recommended to go fast due to the acceleration being able to suck up items, or due to hitting an underwater obstacle and throwing you from your ski causing harm to you and your passengers.
You will need to use your best judgement with the conditions you are in to determine how fast you can safely go in shallow waters.
What items can get sucked up in the pump?
Any item located on the bed of the lake, river, or ocean can get sucked up into your pump. Sand, mud, rocks, weeds, clams, or other items located on the bed of the body of water you are running can get sucked in the pump.
Jet ski pumps are very powerful, and wave runner pumps have even more power. You would not want to damage your ski, or potentially get stranded out on the lake just from running in shallow water.
What happens if I do run a jet ski in shallow water?
If you run a jet ski in shallow water you have a great risk of sucking something up into your pump. If you run fast in shallow water, you have a good chance of hitting an underwater obstruction with your ski and being thrown from your watercraft and potentially be injured due to a shallow water landing.
This can damage your impeller by having a hard object strike and get stuck, tear apart your wear ring if you get sand or a pebble stuck in there.
If you get some weeds or other particles, you can clog your cooling lines, clog your intake grate and wrap weeds around your drive shaft eliminating your chances of going over 10 mph until you go under your ski and clean it off, or basically damage any other item depending on how fast something gets sucked in.
A few years ago we sucked up some weeds in a shallow channel and we were stuck for several hours without having a good beach to get onto to tip the ski and clean out the intake grate. On larger skis, it is hard to get under the ski and see what you are doing in the water unless you have a mask and a knife to cut the obstruction.
We have ran over a piece of rope before, and lets just say it ended in a tow, pulling the ski out of the water, removing the intake grate and ride plate, cutting off the rope, replacing the bushing on the driveshaft, and putting it all together.
How to remove weeds stuck in your jet ski pump from running in shallow water?
To remove items stuck in your pump, first you will need to tip your ski on the beach, if you have a stand up, this is much easier, if you have a sit down, this may require another party. Next reach your hand in the intake grate and pull all of the weeds out and you should be free to go.
If you don't have access to a beach, you can dive under the ski and pull the weeds out while the ski is floating in the lake, but this has its other potential hazards like getting your hand stuck while under water, or by cutting your self due to not being able to see what you are doing.