Kayaking can be a fun and adventurous way to explore lakes and rivers. Having a baby doesn't mean you have to give up all of your pre-baby adventures. Whether you kayak with your baby or not is completely up to you.
You can kayak safely with a baby if they are wearing a life jacket, you go out on a calm day, and if you have enough experience to not tip the kayak over to ensure the safety of your child. You must assess your risk tolerance and be completely confident and comfortable on the water yourself. 
When can you take a baby on a kayak with you?
You can start kayaking with a baby as soon as your baby fits snugly into a Personal Floatation Device, which is around 4 to 6 months. Here is an infant life jacket on Amazon that we used when our daughter was young. 
Do not take your baby on a kayak if:
You are not confident on or in the water
Your baby doesn't fit in a Personal Floatation Device (PFD or Life Jacket)
Your baby won't sit still on their own
The water isn't calm
What do you need to go kayaking with a baby?
Here is a list of items you will definitely need to go kayaking with a baby:
Kayak
Calm Water
Life Jackets for you and baby
Snacks/Food/Milk
Bottles
Diaper Bag with Diapers/Wipes
Sunscreen
Water
GPS
PFD for you and Baby
Waterproof Bags for items you don't want wet
What kind of kayak should you get to kayak with a baby?
With multiple kayak types available, it can be hard to decide which kind to get. There are single cockpit kayaks, double kayaks, kayaks with deep cockpits, and kayaks with shallow cockpits. Leg space, storage room, overall comfort, and stability are all important considerations. 
Advantages and Disadvantages of Single Cockpit Kayak
Advantages:
•Child is closer to you
•easier to manage
•Lighter in weight than a double kayak
•Easier to paddle because it's lighter
Disadvantages:
•May be difficult to row because of child in lap
•Less storage room
Advantages and Disadvantages of Double Cockpit Kayak
Advantages:
•You and your child have more space 
•Arm space may make rowing easier 
•More storage space
Disadvantages:
•Heavier kayak is more difficult to row
•Child is further and harder to help
Pros of Deep Versus Shallow Cockpit
Pros of Deep Cockpit:
•Easier to turn and navigate in water
•Faster in the water
•More protected from the wind
•Easier to "contain" a child
•Child less likely to fall out
Pros of Shallow Cockpit:
•Decreases getting stuck inside the cockpit if the boat capsizes 
•More stable because of increased width
•Typically more storage
•Most are designed to self-drain
•Easier for babies to see out
The biggest thing to consider when choosing a kayak is the stability of the boat and the space that you think you will need. Choose one with a fairly large cockpit for you, baby, and everything you need to store.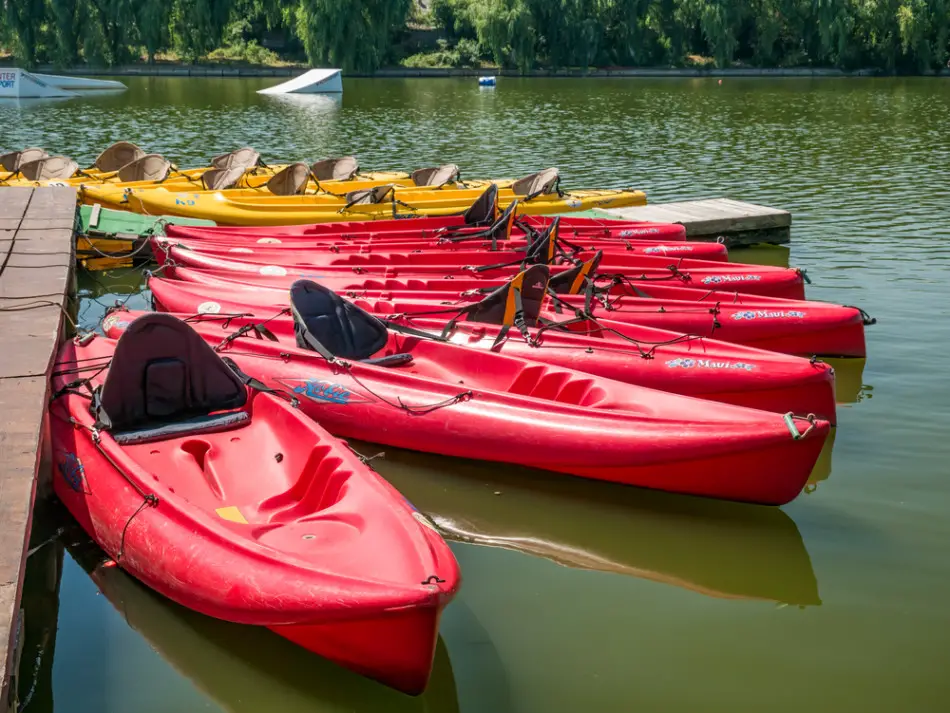 Most people prefer a sit-on-top, wider kayak for children like this fishing model. Fishing kayaks are typically made wider so they do not tip as easy when you go to cast and are perfect for lugging around a little one.
A wider kayak will be more stable and reduce the threat of capsizing when your child moves around. This can help reduce worries you may have of the boat capsizing. 
Once you've chosen a kayak, put it out front and let your child hang out in it for a bit to get comfortable in it before ever hitting the water. 
How to Safely Kayak with a Baby
When it comes to deciding whether or not to kayak with a baby, the ultimate question is how to do it safely. There are several factors to consider and know before you get out on the water with your little one. Here is a list of items you can perfect to ensure an enjoyable day on the water with your little one:
Monitor Water Currents and Weather
Study the currents of the area you will be going to ensure they are calm and safe for you and your baby. Do not kayak in waters that are difficult to navigate as they increase your risk of capsizing and drowning. 
Also, if it is too cold, hot, too sunny, or windy your child may not have a good time. Get them used to the kayak in mild weather so they don't fuss the whole time.
Baby Straps and Inserts (are a no no)
There are baby seats that strap kids to the kayak itself, sort of like a carseat. Do not strap your baby to the kayak as this increases the risk of drowning in the case of capsizing. Wait to take your child kayaking when they are really ready and you don't need to strap them in. 
Wear Life Jackets
Choose a life jacket for your child that is U.S. Coast Guard Approved and fits your child well. Make sure your baby wears the PFD correctly at all times while on the water. 
The fact is, life jackets are difficult for babies and toddlers to wear. Help get them comfortable with life jackets by wearing them at home for short durations. You can also practice wearing the jacket at the house with your child. Put it on them for a few minutes at a time so they can get used to it.
If you are not super comfortable with kayaking, you may want to wear a life jacket as well. You are required to bring one, but wearing one will make it much less stressful should you tip over so you can focus on your baby, not trying to find your life jacket.
Wear Sunscreen
Apply sunscreen every 2 hours. If swimming and in the water, you may need to apply it even more frequently. The water will reflect the suns rays to your baby's face, so make sure to use a high quality high SPF sunscreen. Here is what we used to keep the rays off of our daughters face.
Bring Toys and Snacks
To keep your baby entertained on the water, depending on age and temperance, you may want to consider bringing snacks and a toy or two.
What to Wear
Wear comfortable clothes that are okay to get wet. It might help keep your child cool and less cranky if they can cool off with the water while on the kayak. Also, bringing a change of clothes (bagged to keep dry) might help if your child decides they don't want to be wet. 
When should you Kayak with a Baby?
It shouldn't be a surprise, but try and kayak between naps so your baby is not tired when you go on your adventure.
Once your baby is changed, fed, and happy, it's the best time to get out on the water. Most babies sleep every 3 to 4 hours, so you should have a good hour out on the water before your baby gets cranky. If your lucky enough to have a baby that sleeps anywhere, you should be able to feed baby on the kayak and let them sleep while you explore. 
Final Thoughts
Consider the type of water you'll be on, check the weather, and mitigate all potential risks best you can. In this way you can enjoy your trip, with your baby, and come home safe and sound.
FAQ:
Can you put a child in a kayak with you?
Yes, be sure to choose a kayak that will accommodate you both. Wider kayaks will be more stable to ensure you don't tip over with a child's sudden movement.
Do kayaks flip over easily?
Wider kayaks do not flip over easily. The narrower kayaks with deep cockpits flip over more easily. Try not to lean too deep to one side and tipping over should not be an issue.
Which is more stable, a kayak or a canoe?
In most cases, a canoe is more stable than a kayak. You will also have more room for supplies, gear, and your baby to lay in a canoe.
How do you kayak with a 1 year old?
To kayak with a 1-year old, choose a stable kayak with a large cockpit. Bring snacks and sunscreen. Be sure to wear a PDF and go in calm waters only. 
Can you drown in a kayak?
Yes, you can drown in a kayak if you tip over and cannot swim. Always wear a life jacket if you are not comfortable in the water.