Boats for recreational purposes, which most open bow boats are intended for, are lots of fun for the family, but they are generally used in a day outing role. We enjoy the day out on the water, then park our personal watercraft and spend the night on the shore. Does this mean you cannot stay overnight on the water in your open bow boat?
Yes, absolutely you can sleep on an open bow boat, but you need to plan ahead and take the necessary precautions to keep warm, dry, and safe. You can camp under the stars on your boat, use a pop-up tent, or a commercial fore, aft, or full-boat tent to provide shelter for longer overnight trips.
If you decide to plan a boat camping adventure or a vacation traveling using your open bow boat for transport, would it be feasible to spend a night or two in the boat? This possibility could expand the horizons for which you can use your boat and get more enjoyment from it. Can you comfortably sleep in an open bow boat, or should you not consider this idea?
Can You Overnight On The Water In An Open Bow Boat?
Open bow boats come in various shapes and forms and are designed for various recreational boating activities. What they are not designed for is sheltering people on the boat overnight.
As its name implies, an open bow boat does not have a forward top deck or closed bow. Many boats have a top deck on the bow and have space between the top deck and the hull to provide sleeping quarters for one or two people (this is known as a cuddy cabin).
These sleeping quarters may be tight for space, but they will get you out of the elements and keep you warm and dry.
Open bow boats cannot offer this luxury, but that does not prevent you from using an open bow boat similarly.
Employing a little ingenuity, you can certainly enjoy sleeping in your open bow boat on the water and still have a comfortable, restful night's sleep.
There are many ways to transform your open bow boat to provide shelter and comfort and make overnighting on your boat easy and safe.
There are simple, budget-friendly ways to achieve this, or you can opt for a commercial product that will fit your boat perfectly and maximize the protected space on the boat for overnighting.
These modifications can open up new doors for ways of vacationing with your boat and allow you to experience new adventures on a boat intended for daytime recreation.
How To Sleep In An Open Bow Boat
There are many ways to modify your boat to provide comfortable sleeping quarters on board and keep you sheltered from the chilly air over the water. The solution can range from basic to luxury and everything in between.
The type of shelter you select for your boat will depend on your boat's design and layout, budget, and preferences for spending the night on your boat. 
Camp Under The Stars On Your Open Bow Boat
If you are a seasoned camper, you have probably spent nights camping on the land under the stars. The principles are exactly the same for camping on your open bow boat on the water under the stars.
You would prepare for sleeping under the stars on your boat like you would prepare for camping on dry land.
You would need to include the following in your preparation for an overnight trip.
Warm clothes. The temperature out on the water can drop significantly overnight and can be especially cool in the early hours of the morning. Take layers of warm clothing and items such as a beanie to keep your head warm. There is a reason that beanies are traditional hats used by sailors!
A windbreaker. If the wind picks up during the night, it will drop the temperature significantly, and you will be exposed to the wind with no shelter.
A warm sleeping bag. A sleeping bag rated for the temperatures you are expecting is necessary to protect you from the cool air.
A moisture barrier sleeping pad. A sleeping pad placed under your sleeping bag and will protect you from damp and cool air from below is a must-have.
Mosquito repellant. There is nothing worse than spending an otherwise pleasant night on your boat and being plagued by mosquitoes!
A Pillow. Boat cushions will not cut it and generally, they are very firm. Bring a pillow to avoid waking up with a stiff neck.
Extra layers. Bring a few extra blankets just in case the weather decides to change during the night. The weather on the water is known to change very rapidly and unexpectedly, so be prepared with some layers.
Planning to include these basic items for your night on your boat can make all the difference between a difficult night and a comfortable night.
Use A Pop-Up Tent On Your Open Bow Boat
Many lightweight camping tents are easy to erect and dismantle and make a perfect enclosure to provide shelter when sleeping on your boat.
The main consideration is the floor space you have available on the boat to accommodate the tent's footprint. A pontoon boat or a larger boat may work great with a pop-up tent as they either have a pretty open floor plan or more space than say a 20-foot bowrider boat.
A tent that is easy to erect and disassemble, such as a Pop-Up tent, is the ideal tent to set up easily and pack up in a few minutes in the morning to continue on your water adventure.
You can place your sleeping bag on a sleeping pad in the tent and have a comfortable, dry, and warm night's sleep on your boat. If you are lucky you may even have enough space to use an air mattress to make your overnight a bit more luxurious. The tent can then be zipped up to provide protection against the cold and from those annoying mosquitoes!
Install A Commercial Boat Tent To Sleep In Your Open Bow Boat
Several boat accessory manufacturers produce well-made tent-type structures to enclose open areas of the boat to provide a cabin for sleeping and shelter.
These boat tents can be either bow tents, aft tents, or tents encompassing the entire boat. Some of these tents are only intended to be erected when stationary and must be folded down when the boat is traveling. Other types are designed to be set up and left that way, whether the boat is in motion or not. 
Bow tents such as The Element made by Marine Canopy are custom made to fit your boat model. It encloses the bow to convert it into a cabin to provide shade during the day and shelter at night. The structure is robust, durable, and designed to shed water, giving you protection should it rain overnight.
Other manufacturers make tents for the aft area of the boat, and others still produce tents that encompass the entire boat. The benefit of aft boat tents is that you are closer to the controls, there is generally more floor space available, and it is a flatter part of the boat. 
Full boat cabin tents are ideal for extended trips or where you will be moored at a dock and require some privacy in your boat. The disadvantage of these tent types is that they generally must be folded down before you get underway.
Use The Boat Cover That Comes With The Boat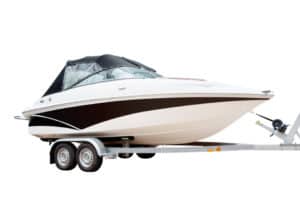 The majority of boats come with a cover to protect the boat while it is not in use. These covers do a wonderful job of protecting the boat from the elements, so it will also do a fair job of protecting you while sleeping under the cover. The downside is there will be minimal headroom under the boat cover and it could be a challenge to button or zip from the inside of the boat.
In our family's open bow boat we would simply leave the bow cover on and let the kids snuggle up underneath it to get out of the sun and have a nap. If you have a large bow it may be possible to sleep a couple of adults comfortably. This is a nice option because it would be much easier to get in and out of, and you can leave the cover on while using the boat.
Conclusion
Sleeping in an open bow boat is not only possible, but it can be an enjoyable way to expand how you make use of your boat. 
Vacationing in your boat is a great way to cut down the costs of hotel or guest house accommodation and enjoy a new adventure on your boat.
Sleeping on your boat can be a lot of fun, but it is wise to have a contingency plan should the weather not play along. As always, safety should be a top priority in all boating adventures!