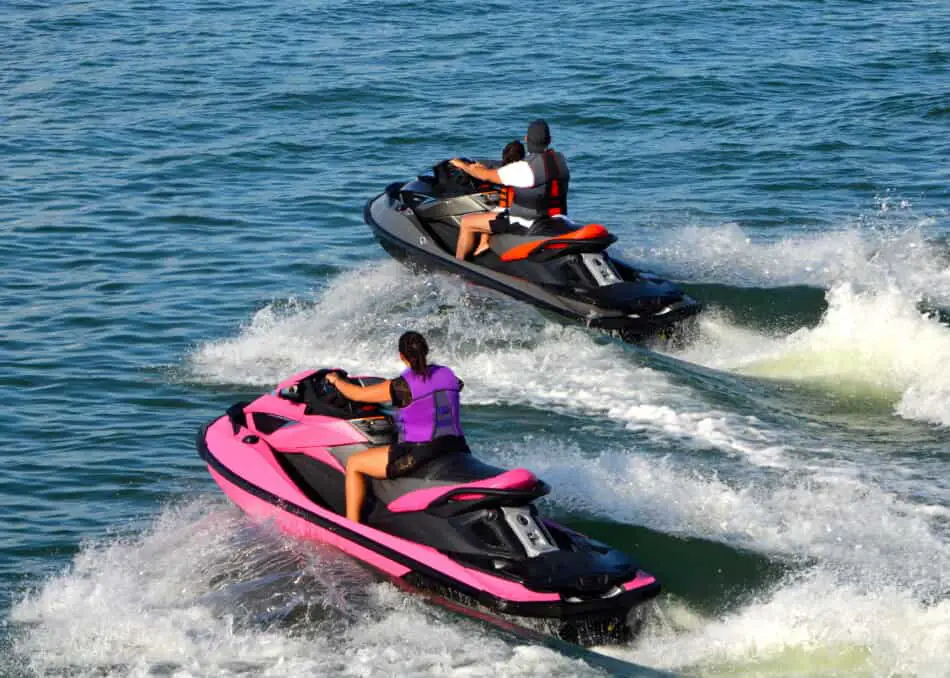 A jet ski is actually known as a personal watercraft (PWC). When on the lake in many states, they do not have their own set of rules and regulations. They are classified in the same category as boats. This means that if you are operating a jet ski on the lake in some states, the same laws that apply to a normal boat or a pontoon boat will apply to you and your personal watercraft.
Even if your state does not require a license, it is wise to go ahead and get one, because your pwc insurance in some cases will require one or you can obtain a discount on your insurance for having one.
Do You Need A License to Drive A Jet Ski?
Over 40 states require you to get a license in order to operate a jet ski, PWC, or Waverunner on their waters. Getting caught without one can lead to a fine or other consequences. Licenses are low cost and the classes to obtain your license are very educational even for experienced boaters.
What is a License to Operate A Jet Ski?
In reality, this is governed by the National Association of State Boating Law Administrators or known as the (NASBLA). Your license is also known as a boaters safety certificate or boater education course in most states.
There are 40 states that require this boating course certificate depending upon the age of the driver. Most states will require you to carry your certificate and your identification, be it a driver's license or state ID card with you on your jet ski while in a public waterway.
How Can You Get Your Jet Ski License?
Check for your state and see what is acceptable for them and if they might have different guidelines for you to obtain your boater safety certificate or boating license. There are sites online such as Boat-Ed.com that offer courses and certifications. They are approved by the United States Coast Guard and their certification is accepted in over 40 different states.
They offer boating safety classes with printable material for future references and study guides. You will first select your state and then your course that you are looking to be certified in. There are some online courses that you must pay for and some that you will take your classes and will be given quizzes over the material covered as a review. Your final test will be over all the material covered and as long as you can pass, you will receive your certificate in the mail along with your lifetime boater education card. This will be considered your boating license.
Renting a Jet Ski: License Required
When renting a jet ski, many places will require a boaters safety certificate and identification. Even in some states where it is not required many rental places will still require it. Most of the time it is the rental companies insurance requiring a boater safety course which is also a boater education class and operating policies and will protect them and you as a driver of a personal watercraft.
The age of being allowed to rent a jet ski will vary from state to state. Some states require the rider to be at least 16 years old, have a photo id, and must have an adult on the jet ski with them unless they are 18. Other states require the rider to be 21 in order to ride the waverunner by themselves.
The thought is that if you have your boaters license, that will reduce reckless operation of the vehicle and give pwc operators a bit more education about how they operate and the rules of the water.
Riding a Jet Ski Without a License
These laws are like any other laws and are designed to be followed. If you get caught riding a jet ski without a license or completed safety course following the laws that govern the waterways, you will be fined. If you get multiple fines for continuing to break the law, you may be mandated by the court to take the safety course and this will wind up costing you quite a bit of money. This is done for your safety and the safety of others. Get your certificate and enjoy your time on a jet ski and save yourself a lot of money in the process. By the way, it is the law.
Even though there are some variations to the laws, some states more than others, make sure that you know the laws that govern each state that you are going to be riding your jet ski on the public waterways. Knowing the differences in the state requirements will also keep you out of trouble while you may be on vacation or visiting family in another state.
As an example, where I ride in Idaho, I do not need a license. If I bring my jet ski across state lines to Washington, they require a boaters education license and I can be fined even though I have been riding waverunners and jet skis for over 25 years and know way more about the safety and operation than an online course could ever teach.
Having a Boating License in Texas
If you live in or are going to visit family or friends in the state of Texas and have plans to enjoy one of the wonderful lakes in the area, know what will be expected out of you in that state. If you were born on or after September 1, 1993 and plan on operating a boat that has more than 15 horsepower.
A personal watercraft or jet ski, or a sailboat over 14 feet long then you must have a License. You may go online and take the course through that state without being a resident. You must be at least 13 years old in order to take the safety course and become certified.
Florida's Requirements Shows Different for Boaters Licenses
The answer is yes, you must have a license and boat safety certifications in Florida if your were born on or after January 1, 1988. In Florida this is monitored by the Fish and Wildlife Conservation Commission. The boaters safety course must be one that is approved by the FWC in order to operate any water vessel that is powered by a 10-horsepower motor or bigger.
The rider must carry their Boater Safety ID card that has been issued by the Florida Fish and Wildlife Conservation with them along with a legal ID to be legal on the public waterways. This is a requirement and their boater safety course has no minimum age requirements and you do not have to be a resident of the state of Florida in order to take this course.
California Is Getting Onboard Boaters Education Courses
California is one of the few states that has not required a license to ride a personal watercraft on the waterways. But effective January 1, 2018 a law was passed that all boaters are required to carry their California Boaters Card when they are on the waterways in California.
This law is slowly being faded in place over an 8-year period from 2018. This law has no age limits or residency laws. If you are on the water on a vessel including jet skis, boats, motorized sail boats and paddle crafts you must have your California issued card on you. The requirements of the California State Park Division of Boating and Waterways is that the online class is open to all people with no age restrictions and you do not have to be a resident of California to take the course but if you plan on being on the waterways you must have it and carry it on your person.
Conclusion
Knowing the laws for enjoying your time on the waterways if it is in the state that you live or somewhere that you are going on vacation or visiting family, will help you to enjoy a hassle-free time on the water. Many of us have a love for water and enjoy a day at the lake but no one wants to be in trouble with the water patrol and wind up getting a ticket and paying a fine. That can be money that is spent having fun. Make sure to follow your safety guidelines and laws when riding your jet ski on any public waterways in any state.