Jet ski lifts are made to moore your watercraft out of the water at your house or public area. They are designed to get your hull out of the water so your jet ski does not sink in rough water, bang against a dock all day, as well as keep the hull clean and algae free.
There are many types of lifts available that have different benefits and drawbacks. We will go through each type below.
How much does a jet ski lift cost? A single jet ski lift will cost between $899 and $2,200. This cost depends on the type of lift you need and materials it is made of. Dual lifts will cost from $1,800 to $3,500. All lifts are designed to keep your hull out of the water to prolong the lift of your watercraft.
Types of Lifts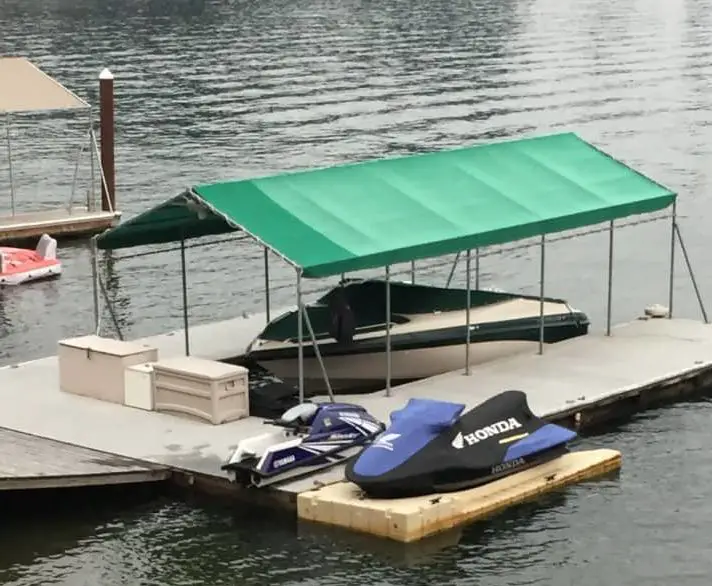 Floating
A floating lift is very popular as they are simple to drive up and park your jet ski. These can be a bit tricky to learn how much throttle to use to get up without going over too far, so will take some practice. Also, they can be hard at times if you do go too far up to get your jet ski off.
We have a floating dock for our ski and as I am used to it, it works very well. When other people use it, it can be a bit tricky so usually, I do all of the loading and unloading. Rolling docks are great as they can be attached to a dock and have plenty of walking room to attach a cover on your ski or to perform maintenance on the water. You are not able to get to the underside of the ski if you want to change a ride plate or have maintenance to perform on the underside of your ski.
Installing this kind of dock can be easy as you can attach it to a floating dock, fixed dock, or even on piling without a dock to attach to.
Pros
Many installation options
Very stable
Priced great
Can add multiple docks to hold multiple watercraft
No Maintenance
Cons
Can be difficult to load and unload
Is heavy and hard to move if you have to
Cost
The average cost is from $1,200-$1,900. Used can be found from $800-$1,200.
| | |
| --- | --- |
| Floating Lift Brand | Price |
| Directdocks.com | $1,289 |
| Wave Armor Evo Sport | $1,599 |
| Shoremaster Shoreport | $1,395 |
| Wavearmor SLX5 | $1,899 |
Freestanding Watercraft Lifts
A freestanding lift stands on its own either next to a dock or just by shore. These can be had in either vertical lifts or cantilever lifts. Vertical lifts lift straight up and the weight of the boat is held by a cable system. Cantilever lifts lift from the back forward on a metal h platform so the boat is held by large metal frames not a cable. Each has its own strengths and weaknesses. Freestanding lifts can be very heavy, but can be taken apart so moving them is easier than a floating dock.
If you have your lift in the middle of your beach area and not by a dock, you may need to get wet in order to get your skis out. Freestanding lifts can be purchased in both electric and manual lift models. Covers can be purchased to keep your skis out of the sun and rain.
Cantilever Freestanding Lift
Cantilever lifts lift the boat from deep water forward to shallow water. When lifting the boat, you are never lifting the full weight, so they are easier if you have a hand crank system. The boat is also held by metal frames for a secure holding. The cable is only there to lift the frames forward. These work great in shallow water or deep water as they can be adjusted. There is less maintenance on a cantilever lift vs a vertical lift.
Pros
Easier to lift
Less Maintenance
Easy to take apart and move
Easy to use
Cons
Doesn't lift as high as a vertical lift
May need to get wet to access your ski
Moving Parts
Vertical Freestanding Lift
Vertical lifts lift the boat vertically out of the water. The boat is held by cables at all times. Vertical lifts can lift higher than cantilever lifts, so if you want to get your boat further out of the water due to large waves, a vertical lift may be the one for you. Vertical lifts require more maintenance as they have to be leveled and cables can stretch. Also, it is recommended that cables be replaced every 3-5 years depending on use.
Pros
Lifts your ski out of the water further than a cantilever lift
Easy to use
Easy to take apart and move
Cons
Moving Parts
Requires adjustment
Requires replacement of cables
Cost
Freestanding lifts range from $1,200- $3,500 depending on the features, type of metal, electric or manual, and other options.
| | |
| --- | --- |
| Lift | Price |
| Shorestation Cantilever Single | $2,548 |
| Lakeshore Cantilever Single | $1,265 |
| Craftlander Verticle Single | $1,679 |
| Craftlander Cantilever Dual | $1,745 |
| Shorestation Cantilever Dual | $3,499 |
Fixed Mount Jet Ski Lift
Dock mount lifts are great if you have a fixed dock, piling, or pier to attach to. They are perfect as they can get your watercraft high out of the water, and even spin around and store them on the dock or pier
Dock Mount
Dock mount lifts can be mounted to floating docks, fixed docks, and stationary piers. These mounts can even rotate to bring the watercraft around on the dock side for maintenance as well as set them on the dock for safekeeping.
Pros
Small Units
Easy to Install
Cost effective
Cons
Need a firm surface to install
May be hard to mount on some types of docks
Piling Mount
Piling mount lifts can be mounted to fixed piling or even a seawall. These mounting options give you the flexibility to move positions easily.
Pros
Flexible mounting options
Cons
Can be hard to access behind a 1′ round piling
Hard to mount unless piling is straight
May limit up and down movement of dock
Cost
Fixed dock mounts range in price depending on if they are electric or manual, as well as rotate. They cost between $1,200 and $2,200.
| | |
| --- | --- |
| Lift | Price |
| MiniMag 1200 Rotation Electric | $1,989 |
| RotoMag 1500 Electric | $2,153 |
| Minimag for Piling or Seawall | $1,295 |
| Shorestation Dock Mount | $1,375 |
Shore Mount
Shore roller mounts are great if you have beach area to store your jet ski. These mounts consist of two bunks with rollers essentially like a trailer. You drive your ski up to shore, and winch it up on the bunks. Driving in shallow water can allow sand to get into your impeller and potentially damage your wear ring or impeller.
Pros
Lease Expensive
Easiest to move and install
Cons
Takes up beach space
Cannot use if you don't have a beach
Can get sand in the impeller
Cost
Shore mounts range from a diy kit of $299 as high as $1,000.
| | |
| --- | --- |
| Lift | Price |
| Roll n Go | $889 |
| Lakeside Recreation | $979 |
| DIY Kit | $299 |