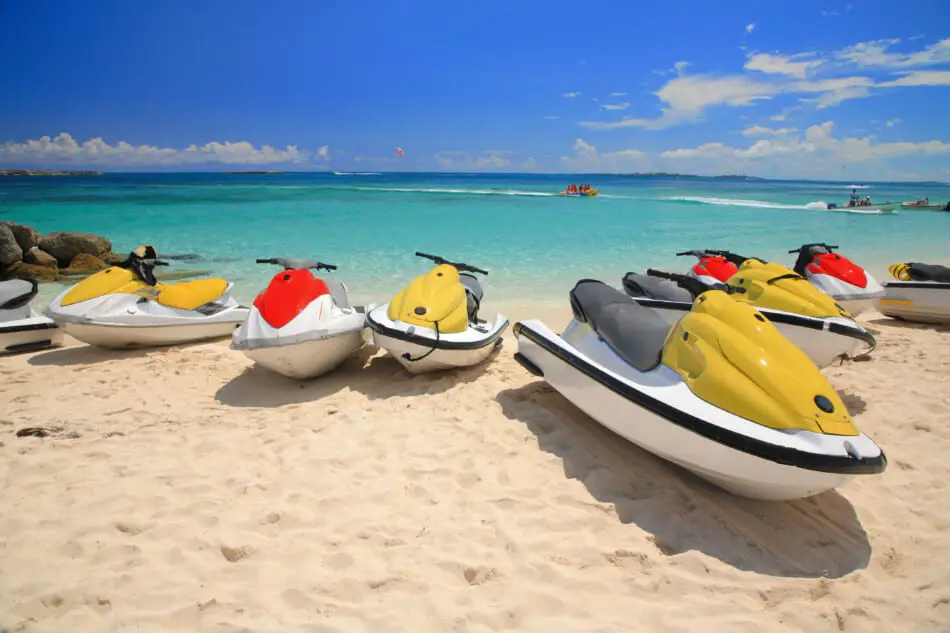 Not everyone feels it is worth it to purchase a jet ski.  When someone does not live near the water and only gets to go on vacation once or twice a year but loves riding jet skis, renting can be their best option. 
Most tourist areas that are near a waterway, have many different jet ski rental businesses that offer a variety of different jet skis or personal watercraft vessels for rent. To purchase a jet ski to only use a couple of times a year can create an expense that is not worth it for many people.  So, renting a jet ski has become quite popular. 
How much is it to rent a jet ski?
It costs between $60 and $180 to rent a jet ski per hour. These costs can be reduced if you book multiple hours or just book an entire day. There are several other costs to be aware of such as: insurance, water safety course, drop off charges, etc. These all can add to your per hour cost, so make sure to know these costs upfront to determine your final cost.
Factors to Determine Jet Ski Rental Costs
The cost of renting a jet ski can vary quite a bit depending upon the area that you are going to be vacationing in. Just as you learned about supply and demand in school, if you are located in a high demand area with low supply, costs may be expensive. This may be the case in areas with short seasons such as in the northwest with only about 3 months of summer.
In areas such as Flordia, there may be many companies to choose from and lots of demand. It can also vary depending upon the type and the model that you are planning on renting. In some areas, a newer jet ski can cost you more than one that is a few years old.
The size in some locations can also make a difference in price. Some are smaller and can only handle one rider, while others are larger and can seat more than one rider and are typically more expensive. The tax rates in different areas can also make a difference in how much you actually pay when you rent your jet ski.
The length of time that you rent a jet ski can make a difference in the price that you are paying also. If you rent for 4 hours or a full day, there are some economies of scale, and you may be able to reduce your price per hour significantly.
There are so many variables that create the price that you pay, so don't just look at a sign or a website and see that it says $50 hour jet ski rental and think that is the end of what you are going to be charged.
PWC Rental Costs
On an average, jet ski rentals can be found for between $60 and $180 per hour.  Many places will rent them by the hour or for a half of a day or a full day.  The more hours you rent them the cheaper the hourly rates get.   If the price is $100 for an hour and you are renting one for the entire day, then the rates may drop down to $70 per hour.  This will depend upon location and the rental place that you choose to go through. 
Many times, the type of jet ski that you are renting can make a difference as well in the price if they have multiple options. In one case, a 2015 model rented for about $225 per day whereas a 2019 model rented for $275.
A smaller jet ski will also demand a smaller price. If you want to rent a 3 seater, expect that to be on the higher side. Many rental places will charge an extra fee for each rider that is going be on this ride.  Many riders feel the extra fees are worth it, so they can ride one of the newest editions of the personal watercraft family.
Here is a table with rental costs in all areas of the country:
| | |
| --- | --- |
| Location | Cost |
| Miami, Flordia | $95-180 Per Hour |
| Lake Tahoe, California | $149-179 Per Hour |
| Lake of the Ozarks | $45-110 Per Hour |
| Flathead Lake, Montana | $60-90 Per Hour |
| Coeur d' Alene Lake, Idaho | $70-95 Per Hour |
| New York, New York | $140+ Per Hour |
| Lake Mead, Nevada | $62+ Per Hour |
Extra Fees
Most waterways in most states require a license or a water safety card for that area. It is wise that you go on a certified site and get your card before you head out on vacation. 
Sometimes you can get this for free and it will be valid for the rest of your life. If you do not have one of these it is normally required that you get this before you can rent a jet ski. Many rental places have it set up as to where you can get a temporary safety course card through them but most of the time there are fees involved. It may only be good for a few days and the cost will vary depending upon what area that you are vacationing in or which rental that you are using. 
Be Very Aware of Hidden Costs
There are some rentals that do not always plainly display everything upfront. One of the things to watch out for is that sometimes they run advertisements or coupons that do not show all of the information that runs in the package you are using the coupon for. Some of these packages may contain restrictions and other thing that must be added to meet what you are looking for that is only going to increase the price of your rental. 
Many rental places have an insurance waiver, this can cost an extra $25 per day. This also provides you with insurance on the PWC, so is a must have in my book.
You may find an advertisement showing a rental place is renting at a really cheap hourly price but in order to get it at that price you must pay when your reserve your jet ski, or actually reserve for a full day and not just an hour.
Many marinas have limited parking so you may have to pay for parking your vehicle while you are out on your jet ski. Some rental places will charge you extra charges for gas, maintenance or service fees, fees to clean the jet ski when it is returned, if they are not right on the water they may charge you a fee to drop off and pick up the jet skis. 
Other charges could include extra charges for the rental of life jackets, late arrival or pick up charges and taxes that could include state, county, and city. All of this could make your jet ski a bit more expensive than planned. 
Additional Savings
Some rental places may offer additional savings for certain discounts such as a military discount.  Not all places will offer this discount.  So, check around and see if you can find a better deal while using special discounts that you may qualify for. Sometimes you may also be able to save by being a repeat customer to the same rental place and if you have already taken the safety course.
It almost always pays to rent a jet ski for longer, or even multiple days to get the best deal. Do your research and make sure that there are no hidden costs.  Do not be afraid to ask questions and know what your being charged for or if there are any discounts that you may qualify for. 
Conclusion
Most of us go on vacation with a budget in mind.  Renting a jet ski is an important part of some peoples vacation and fun that they will have.  It is important to know what you are paying when renting a personal watercraft so that you can keep your vacation within your budget. 
Asking questions and knowing what you are looking for can help to keep you vacation costs under control. There are some choices that you can make to help such as the jet ski that you choose to rent. 
The best thing to do is to check out the different rental places in the area where you are vacationing.  Ask questions when getting rates and know what these rates include. 
Remember hidden expenses can cost you much more than you were expecting.  Ask about insurance rates and requirements for the craft that you are renting. Know if you have your water safety card in advance for the state that you are vacationing in, which will save you money and precious time while on vacation.  Keeping your costs down while renting your jet ski will allow you to enjoy your vacation and help you to stay within your vacation budget.