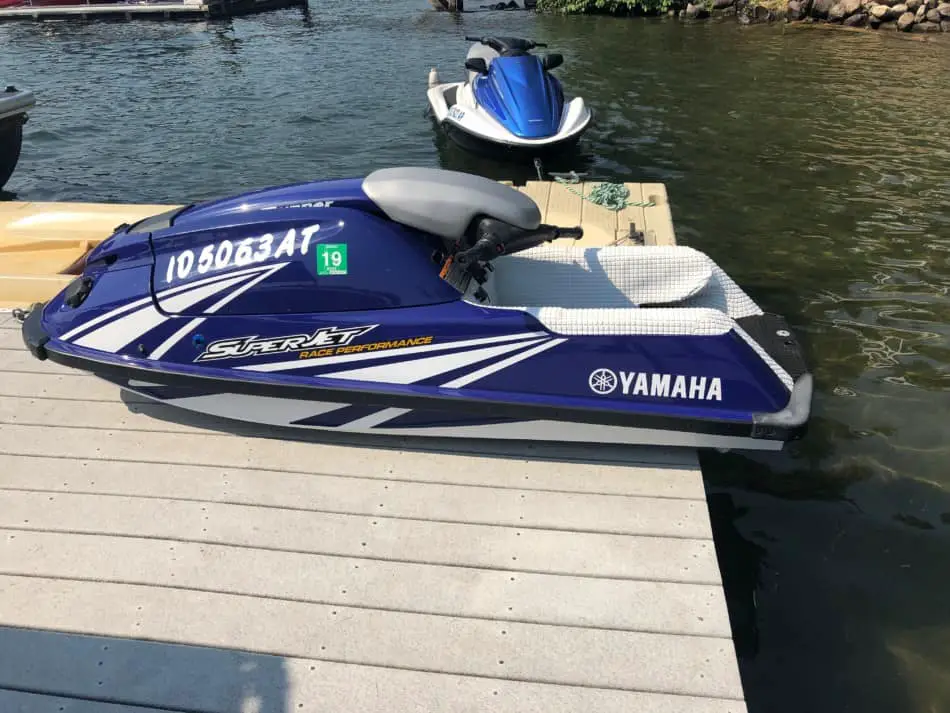 Congratulations, you want to buy a jet ski! Perhaps you want to ride by yourself, have a significant other, or even a family who wants a fun toy to ride. There are many aspects to purchasing a used jet ski, so follow closely below.
2 Stroke or 4 Stroke
Jet ski's are available in either 2 or 4 stroke. The only 2 stroke produced today is in the Yamaha Superjet.
A two stroke PWC will either need mixed fuel or be oil injected. Mixing the fuel requires measuring the right amount of oil to gasoline. Oil injected means that oil is injected and you fill the ski with pump gas. On older units, the injector units tend to fail so many switch to mix gas and install a oil injector block off plate. A two stroke will emit more emissions and typically is louder than a 4 stroke. 2 strokes are typically easier to work on, but hard to troubleshoot. If you are looking at a stand up ski you have no choice but to get a 2 stroke besides the new Kawasaki Jet Ski's.
A 4 stroke will take pump gas, but will require oil changes. 4 strokes are cleaner and quieter machines. In most cases 4 stroke machines are very reliable. There was a period of time that some supercharged models had lots of problems, but on the newer ski's that issue is fixed.
Freshwater or Saltwater Use
In my opinion, I would not buy a jet ski that was used in saltwater, but I live inland. If it was used in saltwater, you will be able to tell from rust or corrosion. If it has no rust and corrosion, that means the owner took great care of it and rinsed it after each use, therefore he/she probably took great care of the ski otherwise and it is in tip top shape.
Engine Hours
Engine hours are something to use to gauge the use of a ski. Many older jet skis do not have engine hour meters and the only way you can determine their longevity is by compression which is explained below. If there is 100 hours or less on a ski, that is still a fairly new ski. If you have a ski with 400 hours or more, personally I would look else ware. Having too little hours like a 8 year old ski with only 20 hours can also be a problem if it has been sitting for years, if there has been no use, the seals, gaskets, hoses can be dry and rotted out.
Test Compression
The best way to determine if an engine is still good is by using a compression tester. This tester will work for an array of engines. Prior to looking at a used watercraft you will want to research what compression is stock and the amount that is acceptable. For example, a 1996 Seadoo XP should have a compression of around 150 psi in both cylinders. Make sure to check both cylinders as you will want both to be within 10% of eachother. If you have a cheap compression gauge, it may not read as high as an expensive one, or a weak battery may give lower results. I would not be scared to buy one with 135 psi. This all depends on your elevation as well. If you have questions, have a watercraft mechanic look the ski over for you.
Water Test
One test that cannot lie is a water test. If you take the ski for a test drive and notice it lagging, knocking, shutting off in the middle of the lake, or giving any warning lights you will want to either walk away or get a discount if you want a project. The ski should pull hard depending on the model. If you are riding an 85 HP 1994 3 seater, don't expect it to pull hard like a 300hp Kawasaki supercharged machine.
If the ski starts and runs well than that is a good indicator of a taken care of ski that will last years to come.
Check for Damage on the Hull and Body
Inspect the hull, body, and engine compartment for damage. If the ski was beached or banged up, that will be pretty easy to tell. Look for repairs in the fiberglass and make sure that the engine bay is straight without added on wires everywhere. While looking at the engine bay, make sure to look at the bolts or nuts holding down parts on your engine. If they have been removed you should be able to see marks from tools and you can ask the owner what he has done over the years as far as repairs.
Oil
If you have a 2 stroke, ask the owner what the mix ratio is as well as how much he typically uses in a season. Make sure to research the correct ratio prior so you can make sure the owner was using the right ratio of oil over the years in the ski. If it is oil injected, there is nothing to ask or look at.
If the ski is a 4 stroke, you can take out the dipstick, check oil levels and even change the oil to make sure there are no metal shavings and that it is not too low or burnt.
Wear Ring
The wear ring is typically a plastic ring which houses the impeller. This should have tight clearances and not have too many nicks or scrapes. These are replaceable parts that will wear, but it does take some time. Another sign the ring is bad is if the motor is strong, but you just don't seem to have fast acceleration.
Impeller
While you are looking at the wear ring, look at the impeller to make sure that there are not any nicks or chunks taken out. This will indicate the user sucked up sand or rocks at some point over the life of the ski.
Battery
A good ski battery can make the difference of a great day on the water or a bad day. Look at the date replaced and see if it is a cheap battery or expensive one. We got 8 years of life on this battery and just purchased new ones for both my Superjet and F12X. My last superjet battery lasted only 2 years as it was a cheap acid. This time I made sure to get a AGM battery.
Water Leaks
While you are water testing the ski, make sure it does not take in water. If it does, check the hull plugs to make sure they are sealing, if not, you may have a crack in the fiberglass or a leak around your driveshaft. A leaking jet ski can be a sunk jet ski if left in the water overnight.
Loose Wires
In the engine compartment, check the wiring to make sure none is loose or out of place. Make sure there is no additional wiring or jumpers an owner installed to bypass a problem. On some skis, you may see aftermarket wiring for a bilge pump which is a plus and a must have on any ski for added protection.
Seat
Take a visual at the seat to make sure there are no rips or tears or that it is not waterlogged. If the seat is waterlogged, it may be moldy and nasty. If it has rips or tears, you can buy new seat covers online such as this one for a 1996 XP
Pump
Take a visual of the pump, intake grate, and ride plate while under the ski to make sure there is no damage or nicks that will affect performance. A nick or scratch on the ride plate wont affect performance.
Floormats
Most stock floormats are hard plastic on old skis that were riveted to the hull allowing many holes in the hull of the ski. On newer skis, these are normal hydroturf. If you have an older ski which the owner added hydroturf and removed the riveted plastic mats, make sure they epoxied the holes shut prior to installing the turf to make sure there are no leaks.
Gauges
While on your water test or on land, go through each gauge and make sure they work. The fuel gauge is the most important gauge to work, so make sure it does and is accurate. On some older skis they may just have a RPM meter if that.
Nozzle / Reverse Gate
While out of the water, make sure to operate the steering left and right as well as the trim system and reverse gate to ensure proper operation. Some models will allow you to trim up so far that it locks the steering. This is BAD if you have a rider that doesn't know.
Paint and Graphics
While completing your visual check of the ski, make sure the paint is in good condition and not cracked or pealing off. Most skis have a gelcoat which is much more durable than a painted surface. Graphics should be stuck to the hull without edges pealing. Ski's can look clean without graphics so some owners may have removed them.
Rust and Corrosion
Open the engine bay and check for rust or corrosion. This indicates water was left in the ski and it was not able to air out and dry. It also indicates salt water usage. If there is surface rust on some items that is acceptable, but any more than that I would avoid the ski.
Trailer
If the watercraft you are purchasing has a trailer included, give it an inspection and make sure the tires are not cracked or warn out. Look at the bearings to make sure they have been greased and the coupler as well as suspension. Other than that if the trailer is straight and bunks are not rotted, there is not much to look for.
Now that the actual inspection is over, it is time for the paperwork and paper trail inspection.
Clear Title
When you buy a waverunner or jet ski, make sure you get the title at the time of purchase with a bill of sale. It is a pain in the butt to file for a lost title which may take some time and money. I have done a lost title ski before and it was some legwork, but I got a great deal on the ski to compensate offset the hassle.
Hull Number
Check the title, registration to ensure the hull number matches the numbers on the jet ski and motor. This will give you the knowledge if the motor was ever replaced or if the hull was switched out.
Best time to Buy
The best time to buy is usually early spring, late in the season, or anytime in the winter. If you buy in the winter you are probably dealing with someone who needs the money so you can get a good deal. During the heat of the summer is when prices will be at their highs.
How Much to Pay
If you have been looking for some time, you will know what is a good price and what is not. Kelly Blue Book and NADA Guides are great resources, but look on Craigslist for what people are asking and even contact some sold listings to find out what they got. If you go by bluebook, chances are you are underpriced. For example, in my area it shows a 1991 Kawasaki 650 sx is worth $950. I know if the ski is clean it is probably a $1,750 machine. Don't think you are getting ripped off if the ski is way over book. This may not be the case of newer models, but you need to watch out.
Consider New
When I look at used PWC for sale in my area, many people have them overpriced. On some listings for only $1500 or so more, I can get a new machine that would be 3 years newer and have 100 less hours. Make sure to shop new so you have all the facts in front of you.
Is it Registered?
Registration on a ski will not only cost you money, but you will need to get registration stickers. If the ski is registered in the state you live in, chances are you can reuse the letters and save some time and money. This also shows the owner is current and has been using it. If a ski hasn't been registered in 5 years, chances are it needs some work.
Factor in Hidden Costs
There are many hidden costs that come with a jet ski such as storage, insurance, gas, maintenance, winterization, summerization, spark plugs, tow vehicle, etc. Make sure you are well aware of how much it will cost you in total to own.
Is it legal to own?
Some areas are banning 2 stroke jet skis. Make sure whatever you get it is legal to own and ride on the body of water you plan on riding on.
Conclusion
With these tips I hope you can find the best used jet ski out on the market. Most of the time they aren't used very much and have low hours, but watch out for the high hour machines with replaced parts.