Jet skis should be thought of as an investment that will require additional funds to keep going. For instance, when we buy a house or car, we make sure we have enough funds to account for the upkeep of the purchase.
You may find yourself asking yourself; are jet skis expensive to maintain? Fear not, the maintenance costs are not too bad if you can do it yourself.
Jet skis are not expensive to maintain if you are performing preventive maintenance regularly. The typical jet ski that is ran in the summer months will cost about $50-100 per year for maintenance if you do it yourself. If you pay a dealer, these costs can be upwards of $300.
The pricing and maintenance of your jet ski depend on the type of jet ski you are buying. The first step of understanding the cost of a jet ski is being able to understand the mechanics of these machines.
The difference between old jet skis and newer jet skis are the type of engines that they have. Older jet skis are known to have two-stroke engines, this means they take a mixture of fuel and oil. This can be quite expensive to maintain if things start to go wrong as many shops won't work on them anymore. If nothing goes wrong, two strokes are cheaper and easier to maintain than a four-stroke.
Newer jet skis have four-stroke engines allowing owners to save money because their engines are like an automobile. You will change the oil, spark plugs, and air filter, but typically they don't have much more maintenance unless something goes wrong.
Tip #1: Understand the mechanics of your jet ski. Sometimes an older jet ski may be cheaper upfront but will cost more in the long run due to maintenance and troubleshooting time and costs.
Tip #2 Some might say that the two-stroke engine is easier to maintain because it has fewer moving parts, but buyers should remember that old parts may be difficult to find.
Maintenance Requirements for your Jet Ski
Let's dive into the type of maintenance that comes along with owning a jet ski. Many individuals think that a jet ski is a one-time purchase, but this is not the case. There can be a significant amount of upkeep that comes with owning a jet ski.
First Service Maintenance Costs for your Watercraft
One of the most important things that you can do for your jet ski is the first service. This is needed because the jet ski needs "break-in oil" that must be removed once the engine breaks down. The time period in which you need the first service is between ten to fifty hours of riding the jet ski.
Please ask your dealer to determine the appropriate time to schedule your first service. This will probably be the costliest service but after the first initial service the rest will be less costly until you hit the first major milestone which may be around 100 hours. Besides the oil change, the first service will also include general inspection, and battery inspection.
The first service on our Honda jet ski was about $300. They changed the oil, checked all the bolts, inspected the turbo and other items.
Tip #3 Dealers usually do not pay for the first service. Moreover, the first service is necessary therefore you may be able to negotiate it into the deal. Remember to get all deals in writing.
Oil Changes on your Jet Ski
After looking at the first service it is important to determine the smaller services that need to be done through the years of owning your jet ski. You are expected to service your jet ski about two times a year. You may need to service your jet ski more if you plan on riding it more often.
One of the smaller services that many individuals are familiar with is oil changes for 4 stroke jet skis. This is like automobile vehicles. Oil typically needs changed every 50 hours or annually whichever is less. Plan on spending about $50 if you can do it yourself or about $100 at a dealer for new oil and a filter.
Changing the Spark Plugs on your Jet Ski
2 Stroke PWC
If you have a 2 stroke jet ski, spark plugs are another part of the jet skis that needs to be changed every year. The age of your jet ski will play a large factor in how often you change your spark plugs. A two-stroke engine plugs up the sparks quicker because of the type of fuel it consumes. You will only need 1 to 3 spark plugs on a 2 stroke as you can have 1, 2, or 3 cylinders. Spark plugs for 2 strokes are about $5 each, so this can run $5-15.
4 Stroke PWC
On the other hand, a four-stroke engine is much more efficient and makes the spark plugs last longer. Replacing the spark plugs on our 4 stroke jet ski was about $40 as the spark plugs are about $10 each.
Tip #4 The rule of thumb for oil changes in jet skis is that oil changes need to be done every 50 hours. Usually, recreational users change their oil every year, but this differs according to your personal use of your jet ski.
Tip #5 The same rule of thumb that is used for oil changes also works for spark plugs. They typically need to be changed every 100 hours. For more users this means every year but can be altered based on how much you use your jet ski. On our ski, it took about 7 years to hit 100 hours.
Battery Maintenance on your Waverunner
Moving forward, the battery of a jet ski is also important when upkeep your jet ski. Many users have stated that the battery should be replaced every three to five years.
On our 4 stroke Honda, we got about 12 years on the factory battery, but on our Superjet, we only got about 3. The Superjet was purchased used and had a low quality battery, but we have upgraded to the same battery the Honda used and expect to get 10 years on each. Here are the high quality batteries we purchased to replace on both of our jet skis.
Batteries for jet skis can range between $40-100. Proper maintenance is key to achieving a long battery life.
Tip #6 You can use a solar battery charger on your jet ski if the phantom load drains it. Typically older jet skis especially Sea Doo's do this. A solar trickle charger is a lifesaver.
Winterizing Costs for your Jet Ski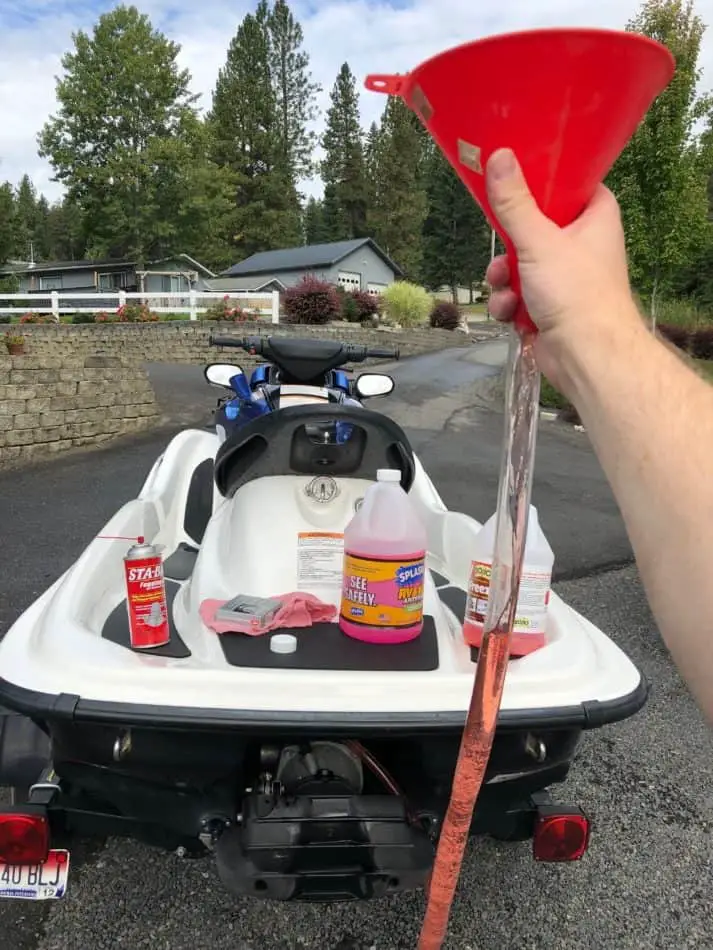 The next service is something that is important even if you do not live somewhere that gets cold in the winter. Every jet ski owner should winterize their jet ski if they will not be using the jet ski for two or more months.
This is an important step because winterizing your jet ski protects the engine from damages during the time you do not use your jet ski. The jet ski engine uses the water from the lake or ocean to keep itself cool, but when the water freezes over the jet ski is not able to do this anymore. Here is our in-depth guide on how to winterize your jet ski.
Furthermore, something that is usually added while you winterize your jet ski is a gas stabilizer. This allows the gas to stay fresh when you do not use your jet ski for a time period of two months or more.
If you do it yourself, which is easy and you can learn how to on our step by step guide here, winterizing costs approximately $10 dollars in antifreeze and fogging oil. If you pay a dealer, it can cost about $150 depending on your jet ski. Winterizing your jet ski is necessary to keep your jet ski in a good shape through the colder months.
Tip #7 Remember to winterize your jet ski before it starts getting cold. and before the first freeze
Tip #8 Do not assume that a winterization service comes with a gas stabilizer. Putting stabilizer in your ski on your last ride of the season will ensure it will run through the carbs. Remember to ask your repairman if he put it in or you will have gunked up carbs next year
Insurance Costs for your Jet Ski
Besides the upkeep and maintenance of the jet ski many buyers need to realize that there are safety costs, such as insurance. Some states do not require that jet ski owners get insurance, but this can save owners a lot of money if an accident occurs for a minimal cost.
Something to consider is that many jet ski drivers are young therefore they are more prone to accidents. If you think about it, we have insurance for everything else in case an accident occurs therefore a jet ski should be no different.
Insurance on a jet ski will cost between $100 and $250 per year depending on your insurance company and jet ski model. Rates are based on horsepower, deductible, coverage, and rider history. By taking a boaters education course, most insurers will give you a discount.
Tip #9 Always prepare for accidents and damages because in the long run this will save you a lot of money.
PWC Storage Costs
The storage of your Jet Ski might also pose as a yearly cost. If you have available space in your garage, then I would suggest storing the jet ski there because it is safe and affordable.
Although, this might still have some costs because you would need to tow your jet ski every time you want to use it. This means having an appropriate car and gear for launching your jet ski.
If you do not have space in your personal garage you can rent a self-storage garage. An interior garage to store a jet ski may run about $50-$100 per month depending on demand in your location. This allows you to protect your jet ski and keep out outside elements.
If you don't have space indoors and don't want to pay a storage fee, you may also be able to store your jet ski in your yard. The jet ski will always be ready to go as it is at your place, but you may not be able to provide security and protect the jet ski from outside elements.
One resolution to this is having a storage shed, which protects the jet ski from outside elements but does not provide security. Here is our in depth guide on storing your jet ski.
If you have a lake house, you may be able to store your jet ski in the floating jet ski dock or the PWC lift. This may be slightly expensive, but it is more convenient than other options due to the easy access of the jet ski.
Another option would be storing your jet ski at the marina. You could have your jet ski dry stored or stored on the water. A jet ski that is dry stored would need to be launched using a special forklift. On the other hand, a jet ski that is stored on the water can be used with ease.
Overall, the payment for each storage type is different therefore make sure to look at all options in your area.
Costs to store your jet ski can range from free to store at your house to $1,000 annually to store at your favorite marina and everywhere in between. Typical outdoor storage can be about $25 per month and indoor can be aboutg $50-100 per month.
Tip #10 The type of storage you choose should be according to where you live and your lifestyle. Make sure to research the most convenient option for you.
Tip #11 If you do not have a trailer and you are currently storing your jet ski at a lake, some dealers or repair shops will be willing to do pickups or drop ins for certain services. This is not free therefore, please look up what your local dealership or repair shop offers. Paying $50 to a dealer once a year may be cheaper than buying a trailer and tow vehicle to move your ski.
Tip #12 If you think that these services are too expensive just remember that you can do these services at home. This will save you a lot of money.
Jet Ski Accessory Costs
Moving forwards, let us look at the accessories that you may find necessary when using the jet ski on the lake or ocean.
The first accessory that is very important when you use your jet ski is the life jackets for jet skis. This is required by law and it may potentially save your life. Make sure to invest in a life jacket that fits you perfectly. You do not want something that is too big because you can slip out of the life jacket and you do not want something too small because you may not be able to stay afloat.
Secondly, you need a dry box for your phone because if you do end up getting lost or the jet ski stops working it is important that you have a reliable phone to get you the help that you need. If you are worried about getting stranded with your jet ski and having no reception it is important that you purchase a collapsable paddle. This will allow you to reach the shore, but it will take a lot of effort, therefore please maintain your jet ski accordingly. These first three items are necessary for your safety when you go out and use your jet ski.
The next item that is necessary is the Jet Ski Dock line which will allow the jet skis to be tied up in the easiest way possible. We like this bungee style which is not as hard on the jet ski as a fixed rope. This is needed because the jet skis will not be able to move once they are docked.
In the same way, if you are planning to explore the water and want the jet ski to stand still it is necessary you purchase a Jet ski Anchor. Here is our list of top PWC anchors.
As mentioned before in this article it is important to maintain your jet ski even when you are not using it. With that said, if you plan on not using your jet ski please purchase a solar battery charger. The lack of jet ski use will flatten out the battery, but the solar battery charger will prevent that issue.
Another accessory that will help keep your jet ski looking sharp is PWC Fenders/Bumpers. These items are necessary when you dock a jet ski because you do not want to damage the hull.
Tip #13 Even accessories are necessary for the upkeep of the jet ski. Do not try to save costs and not buy accessories.
Tip #14 Make sure to do research on the type of activity you would like to do with your jet ski such as riding in saltwater or going on long distance rides. The materials and maintenance may be different according to these activities.