The best part about riding the jet ski is the speed. Open-air and cutting through wakes is the reason why we jet ski! However, a dull or faded looking jet ski can look awful and take away from that freeing experience. In this article, we will detail not only how and why you should wax your jet ski, but the best wax to use and also how to restore a faded paint job on a jet ski to make it look like new. 
How to wax a jet ski? When you apply wax to your jet ski, you are helping the paint and plastic last longer. You want to clean the jet ski first, wipe away excess water, and then use high-quality wax, so it lasts. Marine wax is the best, and liquid wax works well for dark colors. 
The Steps Of How To Wax A Jet Ski:
Waxing a jet ski is simple. There are only a few steps to follow. But, if you do not follow these steps, you may find yourself with a shoddy job or having to redo the situation entirely. 
Step #1: Wash The Jet Ski
The first step to waxing a jet ski is to wash it thoroughly. Cleaning a jet ski should be done on the trailer. You want to clean the jet ski before waxing it, so no dirt or grime gets trapped in the wax job you are about to complete. The wax with be clear in color, so any dirt will standout under the shiny wax job. 
Make sure to clean the footwells best because this is where a lot of dirt will get trapped. You can use tools for washing like a power washer, but a garden hose will work as well. Applying car or marine soap to clean your jet ski is fine. Car wash soap will get the jet ski clean enough. However, marine soap will brighten up the paint job and make your jet ski look shinier. Don't ever use dish soap because it can cause the paint to fade and even damage the paint job on your jet ski. Also, dish soap will remove any wax you have already on your jet ski. 
Drying the wave runner with a microfiber cloth is crucial. If you let the jet ski air dry, it will leave water spots on the paint job. Water spots will show up under the wax job you are about to complete. Waxing over water spots will be a big waste of time if you have a beautiful wax job with unsightly water spots underneath the wax. Once the jet ski is clean and dry, it is time to apply the wax. 
Step #2: Additional Cleaning Of Your Jet Ski
Some people will want to rinse out the inside of the engine for algae or salt. Rinsing the engine can be damaging to the electrical components of the engine. A simple rinse of the jet ski and then a wash of the outer shell is the best option for cleaning your jet ski. You can take care of the engine and the electrical components, though. One opportunity to take care of electrical components and engine parts on the jet ski is to use anti-corrosive spray on these essential parts. The best thing that an anti-corrosive spray will do is stop the internal parts of the engine and all its electrical components from rusting. Using anti-corrosion spray is a high maintenance technique to do every time you wax your jet ski. 
Step #3: Apply The Wax To Your Jet Ski
Waxing the jet ski is the best way to maintain a clean and brightly colored paint job. Sure, you could use car wax, but Marine wax is meant to be submerged in water and is a bit more anti-corrosive. Don't just go for a car way because it is cheaper. Use marine wax for the best results and lasting protection of your jet skis paint job and hull. Also, liquid wax is best used on jet skis because it spreads evenly and dries harder than traditional wax.
How To Apply Wax To A Jet Ski
Whether using an orbital buffer or applying wax by hand, the coat of wax will help to [protect your jet ski for the entire season! If you are applying by hand, use a circular motion as you rub the wax in. There will be a cloudy appearance until you rub the wax in completely.
If you are using an orbital buffer, maintain even and light pressure. Keep the surface coated with wax. Also, maintain that same circular motion as with hand waxing. If your wax container has different instructions for applying the wax, default to these instructions. 
5 Best Waxes For Jet Skis
The best waxes for Jet Skis are polymer waxes, not carnauba. Polymer wax lasts much longer while being used in a marine environment. Also, it is more durable and better protects against corrosion. Carnauba waxes are car waxes not made for marine environments.  
#1 Sea-Doo XPS Wax and Sealant Nano Polymer
This XPS Marine Nano Polymer Wax and Sealant is a premium polish and sealant that provides great polish and will hold a shine for a long time. The product is a blend of two polymers, wax, and silicone for the best shine and long lasting protection.
This wax will protect your ski from UV rays, salt spray, water, droppings, and insects that get smashed on the front of the ski from your speed.
#2 Poli Glow Fiberglass and Gel Coat Restorer
Gel coats are some of the most protective formulas of waxing layers that you can buy. The polymer has UV protection along with the ability to protect and restore your fiberglass and plastic finish of the jet ski or boat.
This product will give your ski a like-new shine but will require a kit for the initial application. This kit includes the wax, cleaning concentrate, applicator, and scrub pad. However, these products are much more expensive than other wax products and can be more challenging to work with and apply as you have to initially apply 4-6 coats for the best look.
#3 Meguiar's Flagship Premium Marine Wax
I have used this wax for years on many boats and jet skis. This wax works great and protects from UV oxidation.
The formula has a long lasting polymer to provide increased protection and add a deep gloss to your fiberglass and gel coat on your hull. The liquid can be applied by hand or with a buffer.
It is easy to use as you rub it on, wait for it to turn white, and wipe it off.
#4 3M Marine Restorer and Wax
3M has came out with an awesome product here. On our fiberglass boat, one side gets hammered from the afternoon sun and every year gets dull. Using this product every spring brings the gel coat back to a deep glossy shine.
This restorer wax really gets the oxidation out while using a buffer, you can do it by hand, but you may get tired really quick.
After it removes the heavy oxidation, it polishes to restore the color. I do recommend going over it with the Flagship Marine Wax to add additional protection.
#5 Meguiar's Flagship Marine Paste Wax
If you really want to get down and dirty to get the best shine, paste wax is the way to go. This Flagship wax will give you long-lasting protection to give you an incredible deep gloss on your jet skis hull. This wax will protect from sun damage, bugs, bird poop, and anything life can throw at it.
This can also remove light oxidation, fine scratches, and swirl marks from washing and can be applied either by hand or with a buffer.
Should You Wax A Jet Ski? 
Waxing the jet ski is an excellent idea if you want to keep the plastic and paint job clean and from getting faded. The wax in polymer-based marine wax can act not only as an anti-corrosive for the paint job and plastic of the jet ski hull.
The polymer can also protect against UV rays of the sun that will slowly fade the vinyl and color of your jet ski over time. Once your jet ski has a faded outer hull, it is tough to restore to the original shine and brightness. So, waxing is a protective measure that all jet ski owners should consider keeping on their jet ski to protect against fading and keep their PWC protected. 
How To Restore A Faded Jet Ski Plastic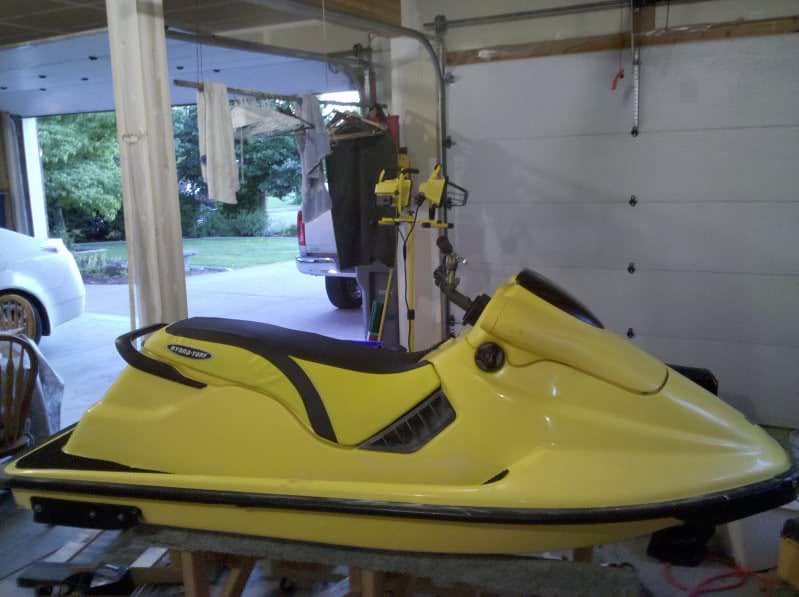 So, you waited too long to begin using wax on your jet ski? You are probably noticing that the plastic and paint job is fading and not looking as bright as they did when they were new. Luckily there are ways to restore the plastic and brighten up the jet ski hull. 
To restore the jet ski hull plastic, simply use a handheld heat gun and go over the plastic items of the jet ski. I completely restored the dash plastic on my 1996 Seadoo XP this way and it looked great. You should see the noticeable brightening of the plastic when you apply the heat. Then, use the wax to the top of the newly brightened plastic of the jet ski for a bright and shiny jet ski that will look great all season. 
Be careful not to heat up the plastic too much so it melts. You can do this several times giving resting time in between so you don't melt it.
Can You Use Car Wax On A Jet Ski? 
Yes, you can, but it is not as effective at protecting from the marine environment as marine wax. Use car wax only if it does not produce oxidation. Also, car wax will not last in a marine environment.
If you use car wax on your jet ski, you will probably have to redo the wax job much more frequently than if you had used marine wax from the beginning. This means that even if the car wax is cheaper than marine wax, to begin with, it may end up costing you more in the end because of the multiple coats you will need to use.
Helpful Hints For Waxing A Jet Ski
Here are a few more professional tips and hints about waxing your jet ski to make it look good all season. 
A pressure washer works great for the initial spray down of the jet ski to get all that topical dirt and grime off. 
Non-chlorinated brake cleaners used for cleaning work well on jet skis because they will not leach out the oils in the plastic of the hull. These are also not flammable, which is a safer product to work with. 
Mr. Clean Magic Eraser works well for stubborn stains on the hull of the jet ski or on any other parts that you will be waxing. 
A fabric cleaner works well for cleaning the seat and cushion of the jet ski, rather than a coat of slick wax. 
Conclusion
If you own a new jet ski, you may think that the brightness and shiny look will last. However, the marine environment can be damaging at all times to the hull of your jet ski. It is essential to follow the directions in this article to maintain the glow and shine of your jet ski and to keep it from getting faded over time.
Wash the jet ski and hand dry it before you add wax. Make sure to use polymer-based wax for the best lasting results in the marine environment. Apply the wax as often as needed and possibly use it with a hard shell covering the product to make that wax last.
Wax is excellent for maintaining the new brightness and shine of your jet ski. It protects against corrosion and UV rays from the sun that can fade the plastic of the jet ski. If you have waited too long to start the practice of waxing your jet ski, you can use the heat and wax technique to restore the color and shine back to your faded jet ski.
In the end, waxing your personal watercraft is about making your watercraft look great in the sun and surf. However, waxing is more about maintaining the look and feel of your jet ski and protecting against the harshness of the marine environment where you ride. If you follow these easy to understand instructions, you will maintain your jet ski hull from fading for years or even decades to come!