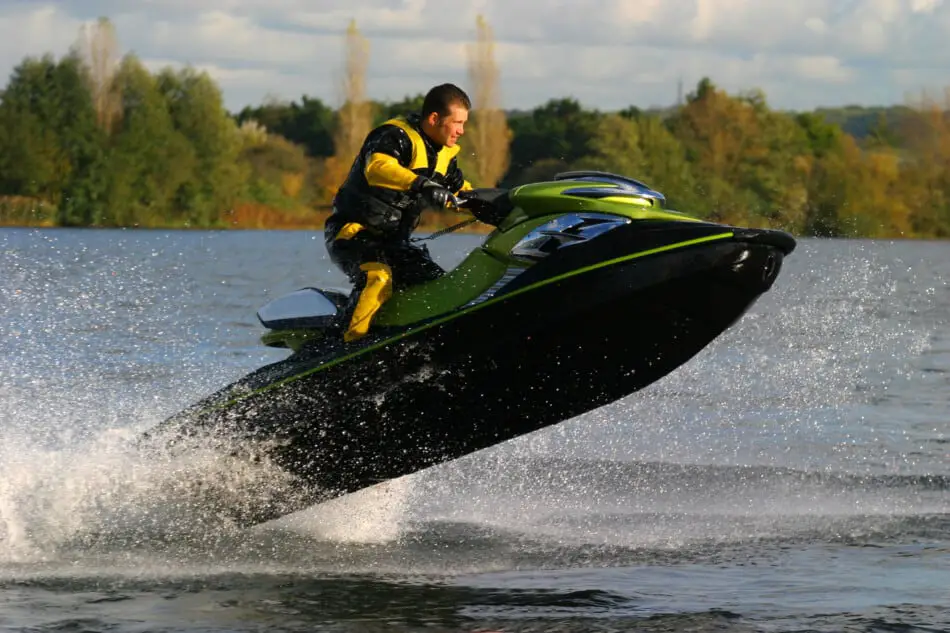 Riding a jet ski is one of the most exhilarating recreation activities one can participate in on the water. However, just like with any outdoor activity, you need to be outfitted with the right equipment to enjoy jet skiing. Of course, before you can begin participating in the sport you will need a jet ski and a life jacket, but you also will need to think about the footwear you are going to wear on the water.
While some people stand by their decision to ride their jet ski barefooted, there are different types of footwear on the market that are well suited to jet ski operation and can even improve your ride especially if on a stand-up. This guide will take a look at these different types of jet ski shoes, explore what footwear options you should never wear on a jet ski, and list a few specific footwear options currently on the market. If you are a jet ski owner who is looking to improve their footwear, you should continue reading below.
Why You Should Wear Shoes on a Jet Ski
Many jet ski owners seem to always recreate their vehicles barefooted. However, this is not the best course of action for three reasons. First, jet ski specific shoes will give you more traction on your watercraft than your bare feet. If you are into doing tricks or speed riding, this is a must.
Second, operating a jet ski barefooted can be quite dangerous when you are traveling at high speeds. If you are somehow thrown from your jet ski, or your feet are moved across the jet ski's frame, you could cut yourself on the jet ski or any of its attachments.
In addition to potentially injuring yourself on the jet ski itself, operating a jet ski barefooted is also a bad idea because it could lead to foot injury when you are climbing on or off of your jet ski. Sometimes it can be hard to predict how rough the bottom of a lake, river, or bay is and it can be easy to cut your feet on debris located below the surface and along the water bottom.
What Type of Shoes Should You Never Wear on a Jet Ski
Before we explore what type of footwear you should wear on your jet ski, it is important we discuss what types of footwear you should never wear while operating a jet ski. Crocs, water sandals, and flip flops are commonly worn around lakes, rivers, oceans, and other bodies of water.
However, these types of footwear should never be worn on a jet ski. Crocs, sandals, and flip flops provide limited protection and are not durable enough to endure the punishment they could incur when operating and boarding a jet ski.
Plus you can lose them easily causing you to make a harsh turn on your jet ski possibly leading to an accident. In addition, flip flops and sandals offer very little protection from the sun, which while riding a jet ski for several hours could become damaging.
The Best Type of Shoes to Wear on a Jet Ski
The best types of footwear to wear while operating a jet ski are water shoes and surf shoes. In general, there are two different types of water shoes. Basic water shoes are normally designed like a sandal, but reinforced enough that they provide protection from the water floor and from the sun.
Advanced water shoes and surf shoes are designed similar to regular tennis shoes with rubber soles to help gain traction on slippery surfaces. In addition to having all of the support and traction of regular tennis shoes, advanced water shoes and surf shoes are constructed using water-wicking materials that allow them to not hold water and dry quickly. Most advanced water shoes and surf shoes are equipped with laces and other fasteners that tighten the shoes to fit a variety of feet profiles just like a standard tennis shoe.
Specific Jet Ski Footwear Options Currently On The Market
Below three specific footwear options are explored. These three options are some of the best jet ski footwear options currently on the market.
The O'Neill Superfreak shoes are one of the best if you are looking for function. They have a 2mm thick material like a wetsuit which will keep your feet warm for cool waters. They have a zip cord and velcro for ease of putting on and taking off. This is my go to shoe when riding.
If you are looking for something a bit more stylish to walk the town after you get off of your ski, the Loyak water shoes from Astral are constructed with cordura nylon, airmesh, and high friction rubber. According to Astral, the Loyak water shoes are well designed for kayaking, paddling, and jet ski operation. The shoes provide excellent traction, flexibility, and durability that will keep you safe as you operate your jet ski. The Loyak water shoes are available in several different color schemes including navy brown and black.
Summary: Jet Ski Footwear
In summary, the best footwear you can wear while operating a jet ski is a pair of water shoes or surf boots. These types of footwear are designed to provide protection and traction to individuals recreating in the water. While operating a jet ski, water shoes and surf boots will protect your feet from potential dangers in the water and on your jet ski. You should never operate a jet ski while wearing flip flops, sandals, or crocs. These types of footwear will not provide protection from debris or the sun, and lack the traction necessary to safely operate a jet ski.