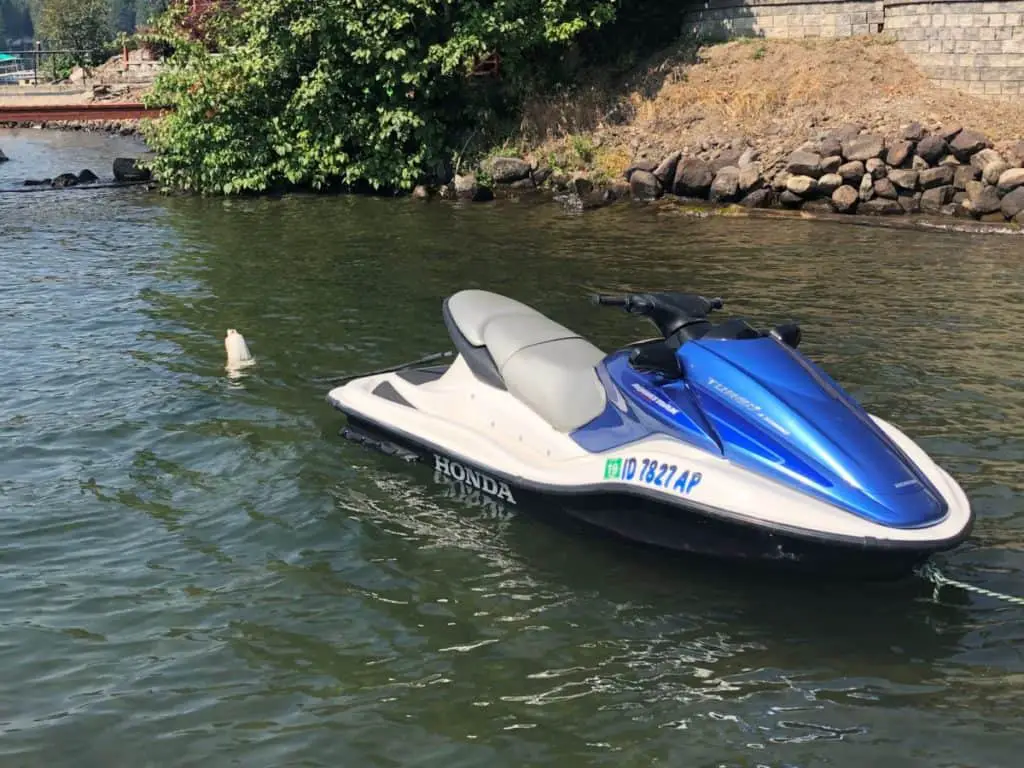 Honda Jet Skis were good looking, performed well, as well as are reliable in the standards of when they came out from 2002-2009. If you compare to today's models, you may see newer skis that have double the horsepower. Personally, I have a Honda and it has been my most reliable ski out of many other brands I have owned including Kawasaki, Yamaha, and Sea Doo's. 
What happened to Honda in the Jet Ski / Watercraft Market?
Honda jet skis were introduced in 2002 and pulled out of production in 2009. There is a coincidence of something else that happened in those same years, the rise of the economy and demise in 2008-2009 due to the "Great Recession". Honda had planned on a 2010 model year, but it was pulled at the last minute. New Honda's were still on dealers floors much later than their model year, for example, I bought my brand new 2007 Honda watercraft in 2009. 
What went wrong with Honda Watercraft?
The Great Recession and lack of sales could be the obvious scapegoat to blame when determining why they stopped production. 
Other factors that lead to their downfall would be their distribution. In order to sell Honda Watercraft, you had to be a specific dealer, such as a Powersports dealer. If you were a marine dealer selling Honda outboard motors to boaters, which would also be the clientele for a Jet Ski, you were unable to carry Honda watercraft. This lead to a small network of dealers that carried the skis thus a small amount of consumers getting in the door to look at them. Dealers were often frustrated as well due to not being able to carry the very popular Honda watercraft.
Another factor was that there was a lack of innovation in the Honda models. On their last year of production, SeaDoo was introducing their breaking safety system, integrated mooring cleats, and other great innovations, where as Honda's upgrade was their GPS system which had been on previous models and was basically a waypoint system, not an actual mapping system.
Honda should have rode the storm out from the recession even longer and kept up with production as their models are still very desirable and if they still produced, who knows what kind of Honda mustlecraft we could be riding.

Pros of Honda Watercraft
Attractive
Can keep up with newer skis top speed
Reliable
Fuel Efficient
Easy to maintain

Cons of Honda Watercraft
Parts availability is lacking as time goes on
Cannot buy new models
No Innovative Features
Lack of aftermarket accessories or mods

Will honda make watercraft again?
In my opinion, Honda will not get into watercraft for some time. If they were to get in again, we would have seen it as the economy has turned around since 2008. We do see hints pop up that they are in the design stages, or are toying around with coming back on the market, but no confirmed news. I would love to see Honda reenter the market with another line of watercraft, but only time will tell.
Is a used Honda Jet Ski worth buying?
For the right price, a used Honda is worth buying, and here is why. They were heavily discounted due to lack of sales, therefore their resale value has gone down significantly. In our area, we have seen Honda Jet Skis sell from $2,500-8,000 including a trailer depending on the model and hours, but a used ski with around 100 hours can be had for about $4,000 which is a far much greater machine than a new Seadoo Spark at half of the price. Being a turbo machine also gives it superior fuel economy than a supercharged machine. The large gas tank can keep you riding for hours.
Over the years that I have owned my watercraft, it has required minimal maintenance and has been very easy to winterize. I have kept up with recommended maintenance the owners manual requires, but the main item done is changing the oil every season. I have had to complete zero repairs on the ski. One important factor with winterizing is to put your old plugs in when you are fogging the cylinders to not fowl your new working spark plugs.
Are Honda Jet Ski's Reliable
Honda Jet Skis have been proven to be reliable as Honda has been making powersports and automobile motors for years. Their motor is not the hottest on the market, but a conservative amount of horsepower and torque to provide a long lasting, easy to maintain watercraft. Honda's are easy to work on as you can take off the side panels where you knees go to have greater workspace around the engine compartment.
The best part about Honda's reliability is that they are a turbo machine. The benefit to this is that if your turbo goes out, you can still ride your ski back to the dock, you will just be slower. If you have a supercharged machine and the supercharger goes out, you are stuck out on the water unable to ride. The early superchargers in Seadoos had many problems. 
What models did Honda Produce
Honda produced several models, the F12, F12X, R12, R12X as well as the newer F15X. The X on the end indicates the models had a turbo, each model was also available in a premium model which included GPS functionality.
The F series was a 3 seater, R series was a 2 seater. The F15X was a bit larger hull with a larger motor, with a few mods, the F15X are capable of speeds in the 70's keeping up with the muscle craft today.