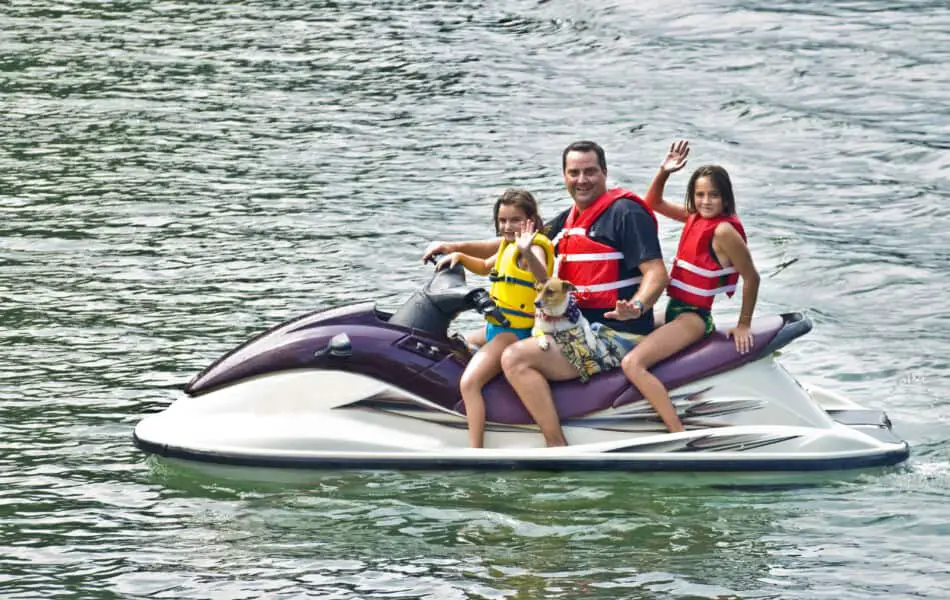 Are you preparing to ride a jet ski for the first time but unsure of what to wear? Or maybe you've been in a less than desirable outfit the last time you were on the jet ski and looking for what's appropriate out on the water? Deciding what to wear on a jetski, a high-speed watercraft should be guided by practicality, function, safety, weather, and comfort.
Here, you are going to learn how to optimize your jet ski attire for your next ride.
What should I wear on a Jet Ski?
When riding a jet ski, there are several items you have to wear as well as some you will want to wear. The have to wear item is a life jacket. Other items you will want to wear are swimsuits, gloves, a wetsuit, rash guard, booties, sunglasses, and sunscreen.
Required Gear
Life Jacket
The law requires that you wear a life jacket on your jet ski, so this is the first item to purchase if you don't own one. No matter how excellent of a swimmer you may be or how well you follow other safety practices on your jet ski, there's no guessing what kinds of accidents can happen on the water.
Accept that a life jacket is a part of your safety. You can even invest in a new life vest that has a light and streamline profile if you concerned about bulk and weight. But seriously, safety first.
General Swimwear
When choosing swimwear to wear on your jet ski, the ideal materials to purchase are quick-drying materials like lycra, nylon, and polyester. Stay away from cotton-blend clothing or typical swimwear that stays wet or will weigh you down and cause discomfort.
Wear functional, practical items that fit your body. You are riding a high-speed jet ski that can move upwards of 70 plus MPH. Loose or baggy clothing is apt to slip off or leave you in an uncomfortable situation should you fall off your jet. 
You also want to factor in how much sun you expect to get that day. If you expect high sun-exposure and you burn easily, you might want to swap the tank top for the t-shirt. Read below for more information on the best form of sun protection for your upper body: a rash guard.
Optional Gear to Wear on a Jet Ski
Rash Guard Shirt
A rash guard shirt is an ideal top article of clothing that will offer protection from the sun. Worn by themselves, the rash guard can protect against strong and harmful rays from the sun that cause sunburns. You can also purchase a rash guard that has built in UV (ultraviolet) protection.
When shopping for rash guards, you will find that they have long sleeves and can be worn like a regular top for both men and women. Women have the unique option of buying a rash guard that fits as a one-piece bathing suit. 
Not only do rash guards protect you from the sun and dry quickly, but they are also a safety clothing item because they provide an extra layer between you and the water should you fall off of your jet ski.
Wetsuit
A wetsuit is a strong investment for riders that jet ski in cooler water temperatures. Cooler temperatures range from 50 to 65 degrees and having a full wetsuit helps your body stay warm. However, between 65 and 78 degrees, wetsuits are optional but a shorty wetsuit is still very helpful depending on your comfort needs. Wetsuits are useful because of they keep you dry, offer sun protection, and are durable.
Wetsuits can be pricey based on brand, style, and function, being upwards of hundreds of dollars. If a wetsuit fits your jet ski lifestyle, take your time to do the research in what wetsuit is right for your needs.
Westsuit Bottoms
An alternative to purchasing a full wetsuit is buying wetsuit bottoms. They offer styles for both women and men, and you can pair it with a rash guard shirt or another quick-dry fabric top.
Bottoms are great for stand up riders as you may have your bottom half in the water more than the top half.
Footwear
Find closed-toe water shoes to protect your feet. These shoes are a great upgrade if riding a stand-up. Although you may be inclined to go barefoot or wear flip-flops, the exposure of your toes isn't worth the pain that can come from jamming them. You can find an assortment of water shoes that are light and are rugged with grip.
If you are riding in colder water, get a pair of wetsuit booties to keep your feet warm.
Gloves
Gloves aren't a vital item to wear on your jet ski as many of the other items mentioned so far, but they could be right for you and your lifestyle. If you are a rider who keeps a tight grip on the handles of your jet ski and winds up with pain or blisters on your hands, then go ahead and buy a good pair of water gloves. They'll offer protection as well as offer a better grip on the handles.
Sunglasses
You should purchase another set of sunglasses to wear for your jet ski ride. You want to avoid wearing your pricey sunglasses that stand a high chance of getting lost if you fall into the water.
When shopping for sunglasses, find a pair that are affordable and look for some that float. This model looks great, floats, is polarized, and is very affordable. You can purchase a floating strap to hold your sunglasses if you have a prescription set that you cannot lose.
Notice that these are all traits you want your sunglasses to have for when you fall into the water.
Suncreen
No matter what clothing items you choose to wear, sunscreen is a must-have to avoid sunburn. The more skin you expose, the more you're vulnerable to damage the sun can wreak on your skin. Even if it's a cloudy day, the sun's UV rays still penetrate clouds. You should also factor in that sunrays intensify when reflecting off the water.
Keep sunscreen on your jet ski and reapply as direct on your product.
Dry Bag
You're going to want a dry bag to carry important items like your phone, wallet, or keys. You can also add a dry towel to your bag.
Dry bags work to keep water out with their roll-top closures, and they come in options that carry anywhere from 5L to 40L.
Conclusion
When deciding what to wear jet skiing, you want to keep protection, function, comfort, and practicality in mind. Because of your dominant presence in the water while jet skiing, prioritize gear that is designed to dry quickly. You then want to maximize sun protection through sunblock, sunglasses, and clothing items like a rash guard. Tailor the rest of your jet skiing outfit with your own style choices and comfort choices.