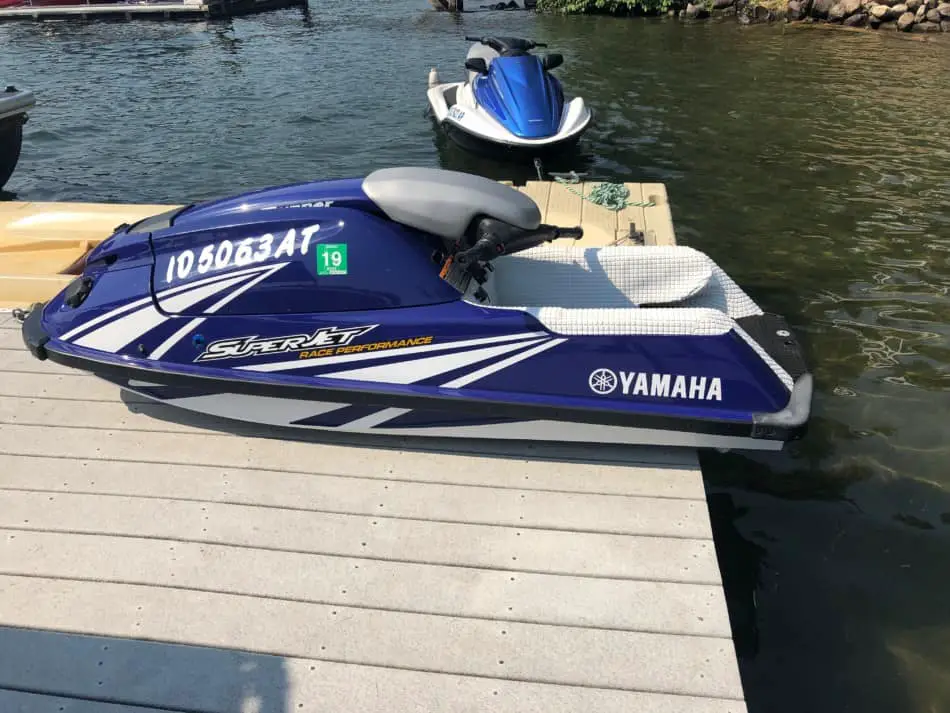 There are many mods available for the popular Yamaha Superjet that will in fact improve your riding experience. From speed mods to handling mods, each will play a part in making you a better rider and get more enjoyment out of your ski. The mods have been placed in order of importance as we would see fit, but feel free to pick and choose what mods you would like in any order.
Intake Grate
An intake grate was one of my first mods and a mod you can tell an immediate difference in. I am into more freestyle riding and ride on a larger lake that is usually rough. This immediately improved cavitation and gave me increased pick up as the scoop is far larger than stock. If you want a little more top speed of 1-2 mph and ride on flatter water, get this model. If you ride on rough water and are into freestyle, this model will greatly improve pickup and reduce porpoising without sacrificing top speed. Both of these models will fit most years of the Superjet.
Ride Plate
The ride plate is one of the next items to upgrade. Ride plates will help level out your ski and reduce purposing. This will improve both flat water as well as rough water. Ride plates are a quick bolt on product and provide better stability and hook up in the turns. Depending on how you like to ride, you will find a ride plate for you here.
Handle Pole Spring
A handle pole spring will help with the weight of the handle pole. This will also lift it when you are not holding the pole. This is great for long rides to relieve your muscles, as well as when you are trick riding. This is the model I have and it works great.
Primer Kit
Primer kits wont give you any speed or handling upgrade, they will however give you faster cold start ups. A primer kit will save your battery as well and prevent from you cranking with the choke on to get gas to the carburetors. This primer kit will work for Superjets with dual carbs.
0 Degree Bars
Switching from a bent bar to 0 degree is great for stability as well as your riding geometry. 0 degree bars will give you better turns as well as better steering as you are not holding a bent bar. While you are at it, get a set of new bolt on grips and ditch the slippery grip or messing with glue.
Impeller
An impeller will either increase low end or high end speed. Later year Superjets have great impellers that work well with mods. Deciding on the impeller pitch will depend on what mods and what you are looking to do. Check the Solas website to help you find the proper impeller.
Freestyle Cone
A freestyle cone will give you better low end and midrange engine performance. They allow the engine to rev faster for better throttle response. I have this model on my ski and it has been great.
Bilge Pump
Either when you first start or are getting to be a more aggressive rider, a bilge pump is a must have on your ski. This will save you from taking in a lot of water in rough lakes, while doing tricks, or just general riding. This kit comes with a stock handle pole switch, bracket, bilge pump, fittings, wiring, and everything you need for a clean install.
Bow Eye Tow Hooks
A bow eye tow hook and loop will allow you to tow your ski, ratchet down your ski on the trailer a lot easier than the stock eye mount. This is two pieces, the first is the metal bow eye bracket, and second is the eye loop that you will use for towing. This makes hauling your ski a lot easier.
Handlepole Limiting Rope
A limiting rope will keep you from destroying your handlepole and spending lots of money and hours fiberglassing or buying a new handle pole. These can get broken easily if doing subs or riding rough. This cheap strap saves a lot of headache.
Hour Meter
An hour meter will not give any increase in perfomance, but will give you an idea of engine hours so when it comes time to maintain your ski, you will be able to stick to a strict maintenance schedule. This model is easy to install and also gives you a tachometer as a bonus.
Flame Arrestors
Aftermarket flame arrestors will allow a better fuel/air mix for better throttle response and also allow your jet ski to be worked on easier. These models bolt on and this prefilter allows further water protection.
Footholds
Footholds are a must have mod when getting into aggressive riding. This requires some time to install so prepare it over the winter. We installed these on our Kawasaki 650 and they held up nicely. They are universal and will work on the Superjet too.
Reinforce Compartment Tray
Use fiberglass to reinforce your compartment tray to reduce the chances that you will crack it with rough water riding. The hulls have been known to crack when jumping, so reinforce it before it gets damaged.
Hydroturf
New turf is always great on the feet as well as giving you more grip for riding. Always buy one with a pad for a softer feel on your feet when jumping and playing around. This kit works for models 1996+ and even includes turf for your footholds and rub rails. If you dont need footholds and rub rail turf, get this basic kit. If you have a 1990-1995, this is your kit.
Tubbies
Tubbies were made to help riders have stability as well as get the hull out of the water more. Tubbies are bolt on and take very little time to install. They can be removed easily depending on conditions or your riding style. These fit 2008-2018 and these fit 1994-2012.
Dual Cooling
A dual cooling kit will keep your ski more reliable than stock in case of a blocked cooling pipe. This kit is cheap and gives you more piece of mild.
Factory Pipe
If you are looking for more power, a pipe kit will give you increased horsepower and top speed. This kit will give you about 3.7 mph increased top speed as well as quicker acceleration.
Aftermarket Head
A head kit will give you increased compression for more power. This kit comes with everything you need to install including interchangeable domes for fine tuning your machine.
Msd Ignition
An aftermarket ignition will provide a better and longer spark for more power. This kit will also give you a more aggressive timing curve for better acceleration.
Porting
Porting your engine can give you additional power. Look into a local shop or an online service where you send your parts in and they come back with more power.
Quick Steer
A quick steer kit will give you faster steering to give you quicker cornering. This kit will fit both Superjets and Kawsaki.
Lightened Flywheel
A lightened flywheel will give you faster acceleration. This one is good as it allows stock battery charging.
Trim Kit
Trim will allow you to fine tune your ski while in differentl water conditions. It will also be needed to perform rolls and backflips. This kit is fairly easy to install and bolts on.
Group K Motor Mods
Group K has been modifying engines for years. I had a Sea-Doo GSX that had group K mods that ripped. Spend some time on their website and you can learn a lot of information about your craft even the factory flaws.
Hull Extensions
Hull extensions will keep your noise down while you are riding to reduce pourposing. This kit will require minor glass work, but is worth it if you ride rough water and want better hook up.
Cover
Covering your ski will keep the gel coat and graphics in good condition and will also keep your ski clean every time you want to use it. I have found the factory cover to be very high quality and a good one to get.
Graphics
Graphics are a way to freshen up an old ski and make it look totally different or new again. You can find graphics that are aggressive, factory like, or fresh and clean. The choice is yours.
Conclusion
Most of these mods are must haves, but some you wont notice unless you ride every day and are racing. To keep your ski reliable, you may want to step back from several motor mods. Happy riding everyone!